Justin Bieber Rep Denies Singer Cheated on Selena Gomez With Rihanna
Justin Bieber Rep Denies Singer Cheated on Selena Gomez With Rihanna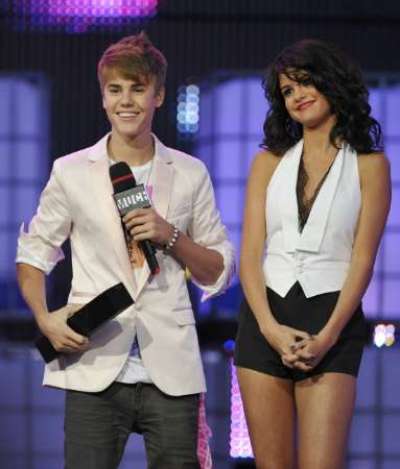 Justin Bieber's representative has denied recent claims of the singer and Rihanna having a romantic relationship, insisting that it would "never" happen.
On Wednesday, Life & Style magazine claimed that Selena Gomez recently ended her 2-year relationship with Bieber, 18, after discovering that the singer allegedly cheated with Rihanna during the early stages of their relationship. A rep for Bieber recently dismissed the claims, according to HollywoodLife.com.
The representative claims that Bieber "never" had any romantic or physical relationship with the 24-year-old Bajan singer, as reported by HollywoodLife.
Gomez, 20, and Bieber split shortly before New Year's Eve after having an explosive fight in Mexico, and a source previously claimed that the Disney star's trust issues eventually pulled them apart.
"The problem in the first place is that Selena was a little bit of a jealous girlfriend and Justin wasn't really taking her feelings into regard," a source close to the stars previously told Radar Online. "Justin doesn't see texting other girls as cheating, but he's promised Selena he'll stop if she takes him back."
A separate source claims that the real reason behind the pair's split stemmed from a 2011 outing involving Bieber and Rihanna. Both singers were photographed seated side by side at an NBA match on Feb. 20 and the source claims that after flirting with one another the pair took things further.
"It has devastated her," a self-proclaimed "friend" of Gomez and Bieber told Life & Style. "It really cut like a knife because it happened in February of 2011, when Selena and Justin had been dating for months and were falling in love. It's caused Selena to question their entire relationship."
While Bieber is currently said to be enjoying singledom, Rihanna has confirmed her rekindled relationship with singer Chris Brown, 23.
"Even if it's a mistake, it's my mistake," Rihanna told Rolling Stone magazine. "When you add up the pieces from the outside, it's not the cutest puzzle in the world ... you think you know. But it's different now."