Katy Perry Ready for Baby? John Mayer Wants Singer to Be 'Mother of His Child'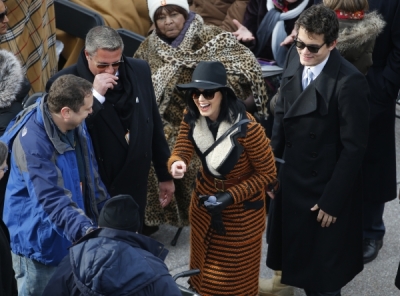 Katy Perry and John Mayer are reportedly talking babies days after the pop star was spotted wearing a diamond ring on her wedding finger.
The Hollywood couple has been dating on-and-off since August 2012 and they briefly split in March of this year before reconciling in July. Reports claim Mayer, 36, is ready to settle down with the "Roar" singer, 29, and that babies are in the cards.
"Katy brought up the idea of having a baby a few weeks ago," a source told Closer magazine U.K. "He was really supportive and said he'd love her to be the mother of his child."
The pair has been subject to engagement rumors for several months, but they have yet to publicly address ongoing speculation.
Perry, who was previously married to British comedian Russell Brand, fueled engagement rumors at the MTV European Music Awards (EMAs) on Nov. 10, after posing on the red carpet with a diamond ring on her wedding finger.
"It's inevitable," a source recently told E! News regarding the possibility of an engagement. "[They're] very serious."
The "Paper Doll" singer and Perry have been inseparable in recent months, which has led to speculation that they are more serious about their relationship this time around. Prior to their March split, the singers would often duck and hide before paparazzi. However, this is no longer the case.
"Everyone wants them to get engaged," the source said. "They are so perfect together."
Perry previously spoke candidly about her relationship with Mayer during an interview with Vogue magazine. The pop star professed her love for him despite their most recent split.
"I was madly in love with him. I still am madly in love with him. All I can say about that relationship is that he's got a beautiful mind," Perry told the July issue of Vogue regarding Mayer.
In July during his Born & Raised Tour in Milwaukee, Mayer gushed about Perry to the crowd. He has previously been linked to actress Jennifer Aniston and singer Jessica Simpson.
"[Katy's] more incredible than I ever thought," Mayer told the crowd, according to Hello magazine.