Kylie Jenner and Tyga: Rapper Reportedly Got A Tattoo in Honor of Kylie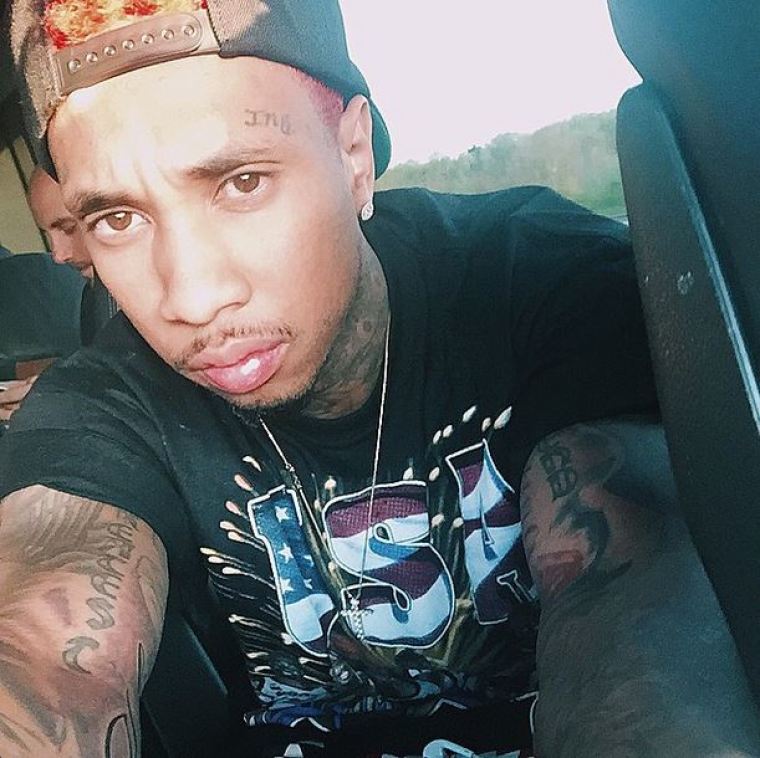 Kylie Jenner and Tyga have a very close friendship, and while they have yet to publicly confirm their relationship, the rapper appears to have taken a huge step to show people that their bond is real and permanent.
In a new Instagram photo, the 25-year old is seen wearing a short-sleeved shirt that shows off his arm tattoos. Upon looking at the inside of his right elbow, a cursive letter "K" can be seen on his arm.
The photo comes after Tyga's ex, Blac Chyna, took to Instagram to share a screenshot of her text messages with the rapper. In Blac Chyna's back and forth exchange with the father of her two-year-old son, King Cairo, it appears as though Tyga is trying to rekindle things between them.
In the screenshot of her text messages, Tyga is listed as "Kings Father" and writes, "Can I just come for a lil. Just us 3. Do something or spend a lil time. Just wanna talk real with u for a min."
Blac Chyna replies, "I'm busy. Working today."
She adds, "Honesty. Key. To move forward."
Tyga replied, "I want to be with u. I want to be positive. I want to be a family. Want to start this friendship. Relationship."
Hollywood Life reports that Kylie, 17, was devastated upon learning about the messages. However, a source tells the website that the reality star was touched after Tyga had her name tattooed on his arm.
"It shocked her that he actually did that, it's a very big gesture on his part and she does like it," said the insider. "She thinks it's very meaningful and knows that he really cares about her."
In a recent interview with 92.3 AMP Radio, Tyga spoke about Kylie and said, "Whether if I tell the world that I love her or I don't, it's gonna be me to dictate that, and how I want to keep my friendship and relationship with her."
"I feel like it doesn't matter what the world thinks. If you're around somebody, and you love being around that person, that's all that matters," he added.