Mazda Limited Edition MX-5 Sport Recaro Roadster Unveiled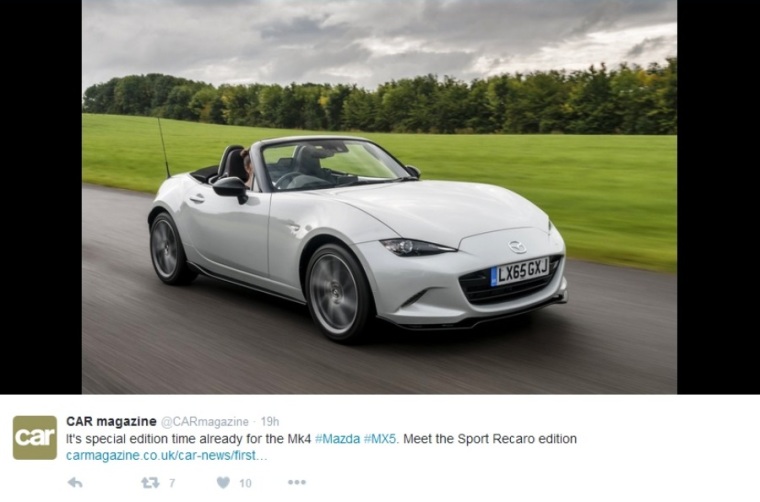 Mazda has added a limited edition model to its two-seater MX-5 roadster and calls it the MX-5 Sport Recaro.
Japanese car manufacturer, Mazda has just introduced a new vehicle model from its assembly line, a limited edition MX-5 Sport Recaro with an exclusive sport-style design and only 600 units available for sale.
The 2016 Mazda MX-5 Sport Recaro features a shorter and lower carriage that is wider than other MX-5 models, designed to possess the lowest center of gravity seen in any of Mazda's roadster vehicles.
With a 2.0-liter 155bhp engine under the hood, the Sport Recaro comes in Ceramic Metallic and Soul Red.
The Sport Recaro has its own aerodynamics kit in Brilliant Black, skirts on the front, rear, and sides, as well as a rear spoiler. With Piano Black door mirrors, it features 17-inch alloy wheels, diamond cut and engraved with Mazda's distinctive MX-5 logo.
Inside the vehicle, the new roadster model sports a unique Alcantara dashboard panel only found in the limited edition vehicle, including alloy sports pedals and signature Sport Recaro floor mats. The seats are decked in Alcantara upholstery with red piping and stitch work. The dashboard, gear level skirt, and leather handbrake cover are also accented with red stitching.
Similar to the Mazda Sport Nav, the Sport Recaro features LED headlights, a leather-encased steering wheel, a Bose sound system, rear parking sensors, rain-sensing wipers, and Mazda's new infotainment system, the MZD Connect that features a 7-inch colored touchscreen display.
Other features include a Bilstein damped sports suspension, a strut tower bar, a limited-slip differential, and other enhancements exclusive only to the Sport Recaro and Sport Nav roadster editions.
Mazda's MX-5 Sport Recaro's limited edition roadster has been made available only in the UK on a first-come, first-served special order basis at a price point of £24,295 ($36,974), with only 600 units available until the model is sold out.