Metallica National Anthem: Video Goes Viral as Fans Applaud Heavy Metal Version of National Anthem (PHOTO)
Metallica National Anthem: Video Goes Viral as Fans Applaud Heavy Metal Version of National Anthem (PHOTO)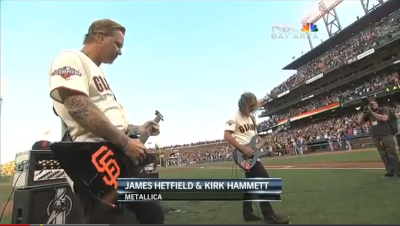 Metallica played the national anthem at the San Francisco Giant's recent home game, and the heavy metal version has turned out to be quite a hit among fans.
The Giants had the group join them for a special "Metallica Night," and lead singer and guitarist James Hetfield, as well as lead guitarist Kirk Hammett came out to offer the band's version of the national anthem.
Hetfield and Hammett were both born near the Bay area, and they still draw a huge following among heavy metal fans, especially in the local area.
The San Francisco Giants got in the spirit of the Metallica themed night, as the team even changed the pictures of their players for the giant scoreboard in the stadium; instead of the regular uniformed photos of the players, the Giants players were all shown dressed up with 80's hair, along with headbands and Metallica t-shirts.
The entire event, even though fun, was in fact all put together to support a number of charities.
As part of the fundraising efforts, following the opening song, fans were invited to bid in an auction for two guitars used by Hammett and Hetfield – with both being custom made for the rockers and each being one of a kind.
According to reports, the proceeds from the auctioned guitars were set to be split equally between the San Francisco Giants Community Fund and the Bill Graham Memorial Foundation.
Here is a video of the Metallica men, James Hetfield and Kirk Hammett, playing the National Anthem in their unique heavy metal Metallica style: