Mike Tyson: 'When I'm in a Dark Mood, I Think of Dying' Says Boxer (VIDEO)
After admitting to a substance abuse problem last week, Mike Tyson said Thursday that he sometimes thinks about dying.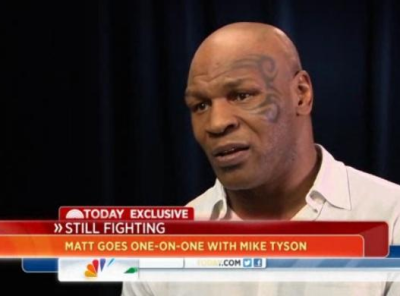 Last Friday the former professional boxer admitted at a post fight press conference that he still struggled with substance abuse. Declaring he was only six days sober, Tyson admitted to being an alcoholic.
On Thursday, the boxer went into further detail about the type of struggle that he has faced.
"When I start drinking and I relapse, I think of dying," Tyson told Lauer, in a "Today Show" piece that was taped on Wednesday. "When I'm in a real dark mood, I think of dying. And I don't want to be around no more. I won't survive unless I get help."
During last week's press conference Tyson announced to a cheering crowd that he would never use substances again. Six days later, the boxer says he has still refrained from temptation although it is starting to take its toll.
"I've been sober 12 days now and it's tough," he said. "I'm mean and irritable."
Tyson has yet to deal with the type of person he is when he is not abusing a substance.
"Yes, it's a real challenge because I don't know if I like this sober guy," Tyson said. "It's hard for me to live normal - straight is hard."
In last week's press conference Tyson revealed that he had been lying to everyone about his sobriety.
"I'm on the verge of dying because I'm a vicious alcoholic," he said at the Turning Stone Resort in upstate New York. "I haven't drank or took drugs in six days, and for me that's a miracle. I've been lying to everybody else that think I was sober, but I'm not."
The boxer claimed that no one would be able to identify with the type of struggles he has endured.
"No one's failed more than I did," Tyson commented. "I'm a king of the barbarians. There's no one that could surpass me in the pain that I've endured. I can deal with it. I can handle it."