Miley Cyrus on Liam Hemsworth Split: 'I Was Scared of Being Alone'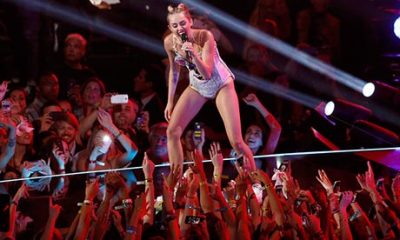 Miley Cyrus recently opened up about her split from Liam Hemsworth during an interview with Barbara Waters.
The "Wrecking Ball" singer, 21, was recently interviewed as part of ABC's "Barbara Walters Presents: The 10 Most Fascinating People of 2013." She spoke candidly about making revelations about herself after her September split, particularly that she had a fear of "being alone."
"I was so scared of ever being alone, and I think, conquering that fear, this year, was actually bigger than any other transition that I had, this entire year," Cyrus told Walters according to Us magazine.
"I don't ever want to have to need someone again, where you feel like, without them, you can't be yourself," she explained.
Cyrus and the "Hunger Games" actor began dating in 2009 after meeting on the set of "The Last Song." In 2012 Hemsworth, 23, proposed, but it was not long before they were faced with relationship troubles.
The pop star acknowledged that age played a role in their heartbreaking split, however she has no regrets.
"I don't think I realized what 19 truly is, and I got engaged at 19, and I definitely wouldn't change being engaged," she said.
"It was so fun wearing a fat rock for a few years," she continued. "But now, I just feel like I can actually be happy. I wait for those moments of silence, when I'm just at my house, by myself."
In February, the former Disney star was left devastated after cheating rumors surfaced relating to Hemsworth and actress January Jones, 35. While she briefly stopped wearing her engagement ring, the pair attempted to move past the scandal. They mutually parted ways months later.
In September, just one day after the pair made their split announcement, Hemsworth was photographed kissing Mexican singer and actress Eiza Gonzalez. Cyrus was understandably crushed after seeing the photos and the Australian actor recently took the time to deny that he and Gonzalez are in a relationship.
"I don't have a lady at the moment," Hemsworth told Extra.
"Barbara Walters Presents: The 10 Most Fascinating People of 2013" airs Wednesday, Dec. 18 at 9:30 p.m. EST on the ABC network.