MLB All-Star News: The Houston Astros' Jose Altuve Is Having One Heck of an Encore Season
Altuve currently leads all American League position players in All-Star votes received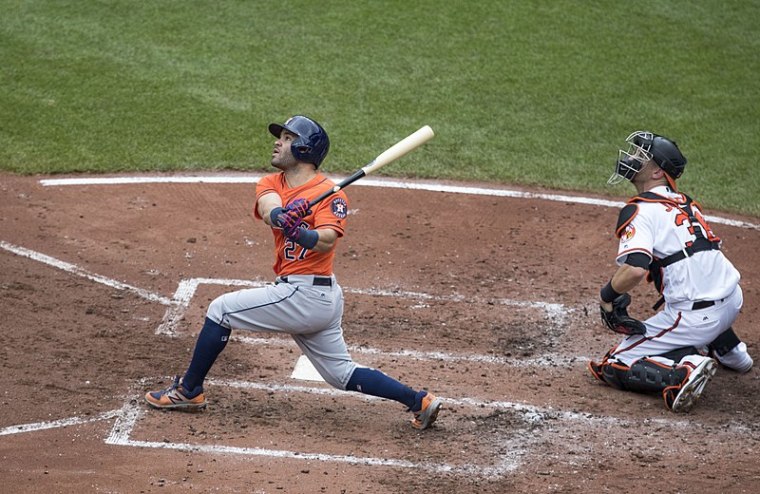 2017 was a dream year for Jose Altuve in baseball.
Throughout his first few years in the Majors, Altuve was perhaps best known to most fans as the second baseman for the Houston Astros who was dwarfed by every other player on the field. His height, or lack thereof, may have gotten him the attention, but it was his production that turned him into a star.
Altuve put it all together last year when he won the American League MVP award and helped the Astros emerge victorious in a thrilling World Series against the Los Angeles Dodgers.
After the year he had, no one would have held it against Altuve if his numbers fell off a bit or regressed to the mean in sabermetric parlance.
The 28-year-old second baseman isn't interested in having his numbers drop off, however.
A quick look at Altuve's Fangraphs page reveals that he's basically putting up numbers similar to last year albeit with less impressive power stats.
However, considering that Altuve is hitting more line drives and making hard contact with the ball more often this year, it actually wouldn't be surprising if his power numbers go up significantly for the rest of this season.
Fans are well aware that Altuve is having another great year, and that's why he's the man currently set to start at second for the American League in the All-Star Game next month, according to the most recent voting results.
If that wasn't impressive enough, Altuve is also the top overall vote-getter among all All-Star Game hopefuls across the Majors.
Altuve made it clear long ago that baseball fans should keep an eye on him not just because he's a smaller man trying to make in a world dominated by hulking athletes.
2017 was a testament to Altuve's greatness as a ballplayer, and 2018 is only further cementing his legacy.