NBA News 2016: Here's Dwyane Wade's Surprising Answer on Whether Close Pal LeBron James Can Surpass Michael Jordan as GOAT
There's no doubt in James' mind that he can surpass the Chicago Bulls' superstar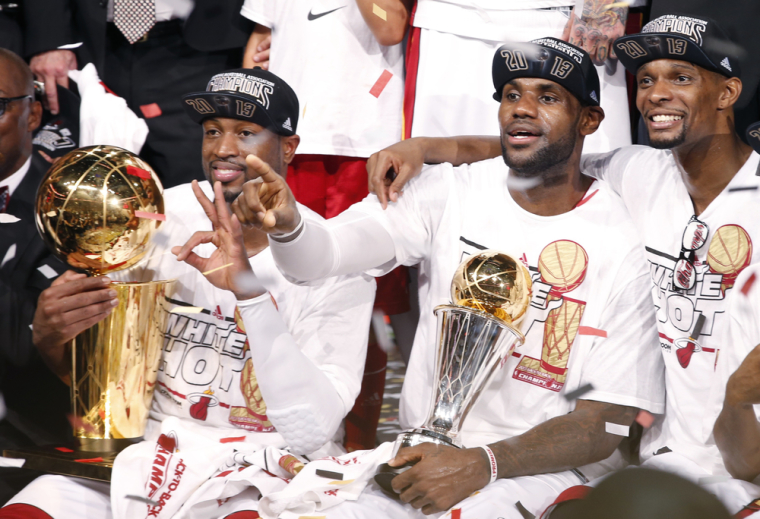 LeBron James at 31 is now a proud owner of three NBA championship rings. He has just delivered on his promise to bring his hometown its first ever basketball championship in history.
Back in 2010, he ditched his first NBA team, the Cleveland Cavaliers, to team up with two other all-stars in South Beach. In his quest for winning not just one, "not two, not three…" championships, James come up with two Larry O'Brien trophy.
But, no matter how many championships he could win in a Heat uniform, it seems like his legacy will always be questioned. Can he actually lead a team to a coveted championship on his own and without the help of a couple of superstars?
James Reduced His Critics to Silence
While Cavs still have a Kyrie Irving and a Kevin Love in the equation, players who are NBA stars in their own right, James stint with the Cavs last season proved the legitimacy of his claim to basketball supremacy.
He turned critics into believers after almost single-handedly carrying the Cavs on his shoulders for the better part of the 2015-2016 season all the way to the finals. He is the best basketball player on the planet in his generation today.
But, that won't stop the man from chasing for something even grander. He wants to be hailed as the best basketball player. Period.
"My motivation is this ghost I'm chasing," James said. "The ghost played in Chicago."
LeBron James and His Claim to the Throne
Michael Jordan is still sitting comfortably on his throne as his airness remains to be the Greatest of All Time (G.O.A.T.) in the sport of basketball. For one, LeBron still lags behind with three championships compared to Jordan's six.
But, the Cavs alpha dog has just made a strong case for the right to challenge the true king. James did not just lead his team to a championship, he did it in a fashion not even Jordan was able to accomplish.
LeBron came up with mind-boggling numbers, leading all others in the Finals in points, rebounds, assists, blocks, and steals. He dethroned the defending champ, the Golden State Warriors who are owners of the best regular season record in the NBA history, after climbing a 1-3 hole.
His Close Pal Dwyane Wade Weighs In
There's no doubt in James' mind that he can surpass the Chicago Bulls' superstar. But, it looks like he doesn't have the vote of confidence of one of his closest pals and "brother."
"No, it's not possible," Dwyane Wade told ESPN while laughing. "The only thing you can do is tie it. You can't go past it. How can you? That's as great as it gets, man. There's no way higher."
While Wade's answer is not exactly the kind of words you would want to hear from your best friend, it's as straightforward as it can get. While the fans are not sure how James would take Wade's pronouncement. One thing's for sure--- the two friends have got some talking to do.