Newt Gingrich Penguin Bite Covered by Obamacare? (VIDEO)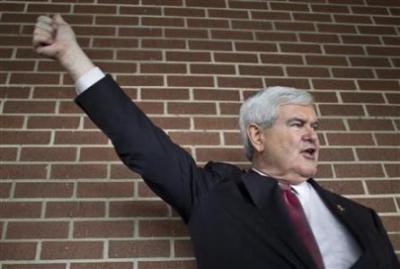 If the Zoo was Newt Gingrich's choice to get away from biting criticism over his 2012 presidential campaign, it is his place of peace no longer as even the animals have begun to revolt.
Gingrich is known to make frequent zoo visits, he even wrote the forward to the 2008 "America's Best Zoos: A Travel Guide for Fans and Families." While under recent pressure to withdrawal his Republican nomination campaign it appears that Gingrich decided to take a break from the rat race and opted for a peaceful visit to the zoo instead.
Gingrich went on a private tour at Forest Park Zoo and while he got through most of his excursion without complaint, it seems that Gingrich can't go anywhere without someone having their own two cents to put in. This time however, it was not a Democrat opposing the Republican runner but rather a Magellanic penguin who took aim at Gingrich's political hand.
"He was nipped on the finger by a penguin," zoo public relations director Susan Gallagher said. "A Band-Aid took care of the injury."
That DailyKOS joked that fortunately for Gingrich, "Obamacare covers penguin bites."
Despite the rebellious penguin however, Gingrich has confirmed that he never gives up and will not be turning his cheek from zoos.
"Newt is a zoo fan. He will be back," Spokesman R.C. Hammond stated.
Gingrich has poised himself as a complete animal lover and even attempted to use this quality to further his campaign. The Republican went as far as to launch an entire campaign site titled Pets With Newt 2012.
According to zoo officials, the assumed Democratic penguin is doing fine.