Prince Harry's Angry Birds Hat Ruffles Feathers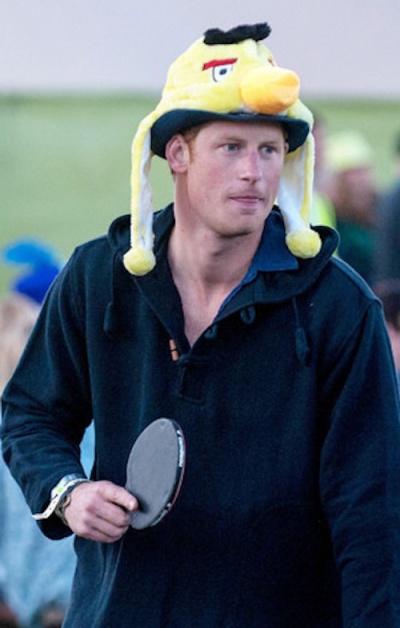 Prince Harry appears to be back to his usual antics and was spotted wearing an angry bird on his head during a playful game at the Womad world music festival.
The Prince was spotted on Saturday during a playful game of ping pong as he and a companion both donned matching Angry Bird hats. He attended the 30th anniversary of the music festival alongside Cressida Bonas, 23, his cousin Princess Beatrice, and her boyfriend Jack Brooksbank. The Angry Bird hat resembled that of the birds that have become famous through the smart phone game. Some users however, were offended by the prince's jest.
"Are we paying them to be court jesters or sit on thrones and look regal? If they are just like everyone else then stop paying them because anyone can do this," Julie from Wales asked on the Mail Online blog.
Harry is allegedly now dating Bonas, according to reports, which have stated that the pair has been spotted out together more than once.
Prince Harry Dons Angry Birds Hat for Table Tennis Match