Rihanna Instagram Account Removed After Racy Photo; Fans Furious
Rihanna fans took to Twitter on Monday to express outrage after her Instagram account was deleted.
It is unclear whether the Bajan pop singer voluntarily removed her Badgalriri Instagram account or whether it was shut down by administrators, however, recent reports of nudity violations have many fans suspecting that it may have been the latter.
UPDATE: Rihanna's Instagram account has since been restored.
On Tuesday, April 29, Rihanna posted her revealing cover for French magazine Lui on Instagram which resulted in a a warning from site officials for the singer to stop sharing semi-nude photos or risk having her account permanently removed, according to TMZ.com.
The photo was deleted by Instagram and the singer responded by posting the banned pic on Twitter instead. She also appeared to mock Instagram's rules by sharing a comical photo alongside the caption "Rih's next magazine cover if it was up to Instagram."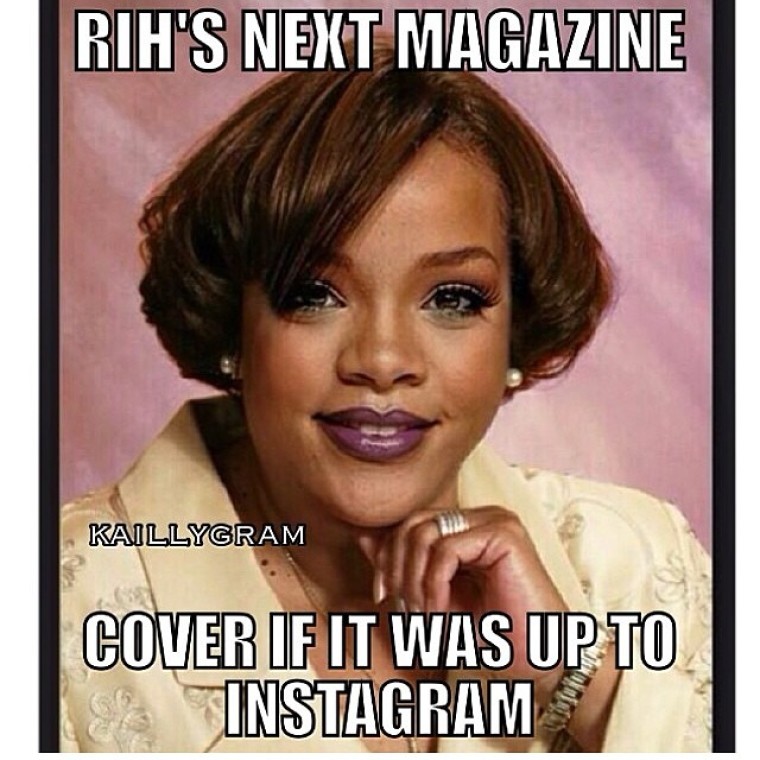 The "Pour It Up" singer's 12 million followers were recently left furious upon noticing that her account was removed and on Monday Twitter was flooded with angry tweets.
"Rihanna's instagram is gone. Brb need to go and cry," one seemingly devastated fan tweeted.
"OMFG Rihanna deactivated her Instagram account. My life is OVERR," another tweet read.
"Should I like boycott instagram until Rihanna account comes back!?!?! @rihanna what do you think?!" one loyal fan wrote.
Instagram's community guidelines state that "If you wouldn't show the photo or video you are thinking about uploading to a child, or your boss, or your parents, you probably shouldn't share it on Instagram."
The pop star, 26, appears to be having a bad week as new reports claim she and her boyfriend Drake recently had a falling out however they are still together.
The Canadian rapper, 27, was unable to attend the iHeartRadio Music Awards on May 1 where Rihanna won for "Artist Of The Year" due to work commitments and their extended time apart is said to be causing friction.
"She misses him entirely. That's all and she wants him to drop everything to constantly be with her," a source close to Drake told HollywoodLife.com.
"He seriously would if he could ... He's just grinding right now on some serious business. He thought they had an understanding that business is first," the insider explained. "He meant that, and that's why he had to cancel some things and not be with her."