Samsung Galaxy S3 Wireless Charger Enters Into Production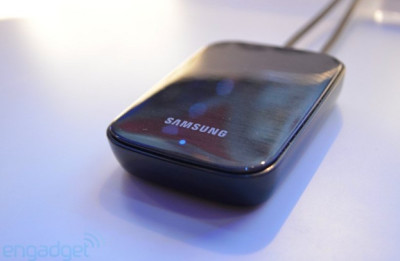 The wireless charging kit for the Samsung Galaxy S3 has just entered into mass production.
The new accessory is extremely thin and is made specifically for mobile devices. Most future smartphones will be compatible with this new wireless charging technology and many of the current devices require a case that will come with the kit in order to juice up without a wire.
The new kit should be available for the Galaxy S3 and Galaxy Note in the near future.
In order to use the kit, a special case must be applied to the phone's body, then the user must place the handset in the dock and it will automatically charge.
Samsung's wireless charging technology features a charging coil that is 40 percent thinner than most other wireless charging kits being developed, making the company's version a bit more unique. This will allow Samsung to create extremely thin devices that can charge wirelessly.
The Samsung Galaxy S3 Android 4.1, JellyBean update is now available for the unlocked version of the handset in the U.K.
This official upgrade can be accessed using Samsung KIES software and is available for the unbranded SIM-free model.
It features a unique build number of I9300XXDLJ4 and seems like a much better version of the software, according to YouMobile.org.
This is also the 5th build of JellyBean to be released for the Galaxy S3 in Europe.
The update was recently released for three of the major carriers in the U.K: Three, O2, and Vodafone OTA (over-the-air). There have not been any reported problems with the update.
It started rolling out in the U.K. last week and the timing was first confirmed in an O2 user forum.
"Good news! The wait time is almost over for Samsung Galaxy S3 users. From tomorrow, 19th Oct. '12, you'll be able to upgrade to the much awaited 4.1 Jelly Bean update over Wi-Fi or via Kies," wrote O2's social media team.
"If you have activated the 'auto-update' feature from out of box, you will be prompted to download the 4.1 Jelly Bean update," continued O2.
Samsung Galaxy S3 Hands-On Video