Seahawks vs Rams Live Stream: Watch Online Free NFL Sunday Football (4.25PM ET)
The Seattle Seahawks and the St Louis Rams will come together in a big clash on Sunday afternoon in the NFL.
This Week 17 clash amazingly sees the Seahawks attempt to clinch the NFC West divisional title, stealing it from the grasp of the recently stuttering San Francisco 49ers.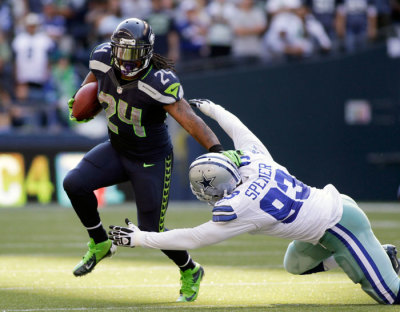 The game will start at 4.25 p.m. ET and can be watched online through free live stream (details below).
Seattle come into this game with an overall record of 10-5 having had a storming run in to the end of the regular season.
The Seahawks' demolition of the 49ers last week sees them pull up just a nose behind San Francisco at the top of the division, with the 49ers on 10-4-1.
If the 49ers slip up again today against the Arizona Cardinals and the Seahawks win here then the Seahawks will win the divisional title. Not many pundits would have given Seattle any hope of being in this position at the start of the season - or even mid-season - which just goes to show what they've achieved this season.
Rookie quarterback Russell Wilson has had an immense season, going 237 from 374 for 2,868 yards and 25 touchdowns for the Seahawks.
Since the Seahawks disappointing went down to the Miami Dolphins 21-24 at the end of November they have won three straight games.
Firstly taking down the powerful Chicago Bears 23-17, before going on a rampage by posting 150 points over the next three games. They wiped out the Arizona Cardinals by 58-0, took down the Buffalo Bills 50-17, and last week amazingly dismantled the San Francisco 49ers 42-13 to pull alongside their main rivals at the top of the NFC West.
The Rams are 7-7-1, and will be looking to win today to close out a winning season. However, they will have their work cut out stopping the Seahawks monster.
Going on the road to a team that has registered 150 points over the past three weeks is not an ideal end to the season, and most are expecting it to end with the Rams floored by a big score.
If the Seahawks can post another big win today, even if they don't manage to win the divisional title, they will enter the playoffs as one of the most confident and in form teams, and would probably be at the top of the list of teams others want to avoid.
Seattle Seahawks vs St Louis Rams is scheduled to start at 4.25 p.m. ET and can be watched online through free live stream by clicking here.