'The Elder Scrolls: Legends' 'Looks Like Hearthstone' but Not a 'Hearthstone Killer'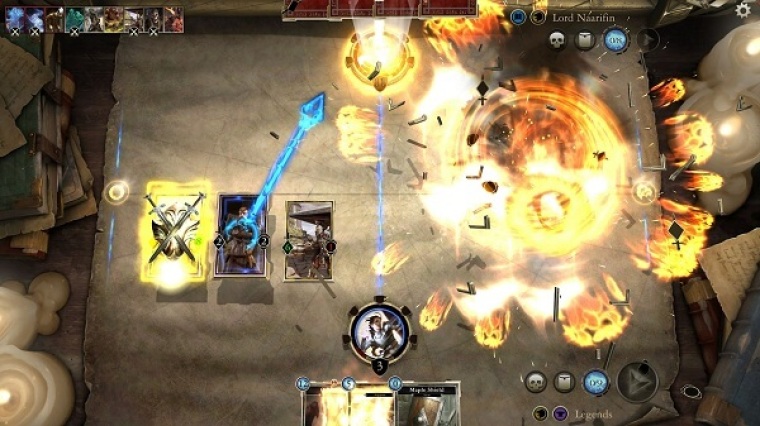 Bethesda showed off the first gameplay trailer (below) of its collectible cards game "The Elder Scrolls: Legends" prior to a beta announcement during the recent PAX East 2016. And after having their hands-on, multiple sites agree that the game "looks like Hearthstone" but is not a "Hearthstone killer."
News site Venture Beat likens "The Elder Scrolls: Legends" to Blizzard Entertainment's popular CCG title "Hearthstone," saying the Bethesda game "sure looks like Hearthstone." It's not the only one to notice the similarities, with Forbes and Destructoid adding the game is like "Magic: The Gathering" as well. "Hearthstone" and "Magic: The Gathering" are two of the most popular collectible cards game out there. The latter publication even reports a Bethesda rep couldn't describe the game without comparing it to these two games. Like the two older games, "The Elder Scrolls: Legends" is free to play and based on a popular series, Bethesda's "The Elder Scrolls." In addition, the game's objective is also to use spells and minions to defeat the opponent.
"The Elder Scrolls: Legends," however, differs from "Hearthstone" and "Magic" with its use of two different lanes and providing players an automatic turn to draw a card when their health hits a certain low point. But these distinctions are not enough for some players to make it their go-to competitive card game. Destructoid says splitting the playing field changes the strategy but doesn't make the game "revolutionary."
Bethesda clearly wants a piece of the $1.2 billion a year digital card game market, the current leader of which is Blizzard Entertainment's "Hearthstone" which earns $20 million a month. "The Elder Scrolls" has a popular fantasy universe too but Forbes believes launching a card game doesn't appear to be "a logical evolution of the series." The publication further adds that chasing the next trend is not the way forward for the popular fantasy game series.
"The Elder Scrolls: Legends" is currently having its closed beta testing which hopefully helps improve the game. It's free-to-play for the PC, though developer Dire Wolf Digital is reportedly working on an iPad version.