'The Legend of Zelda' Exclusive Watch from ThinkGeek Released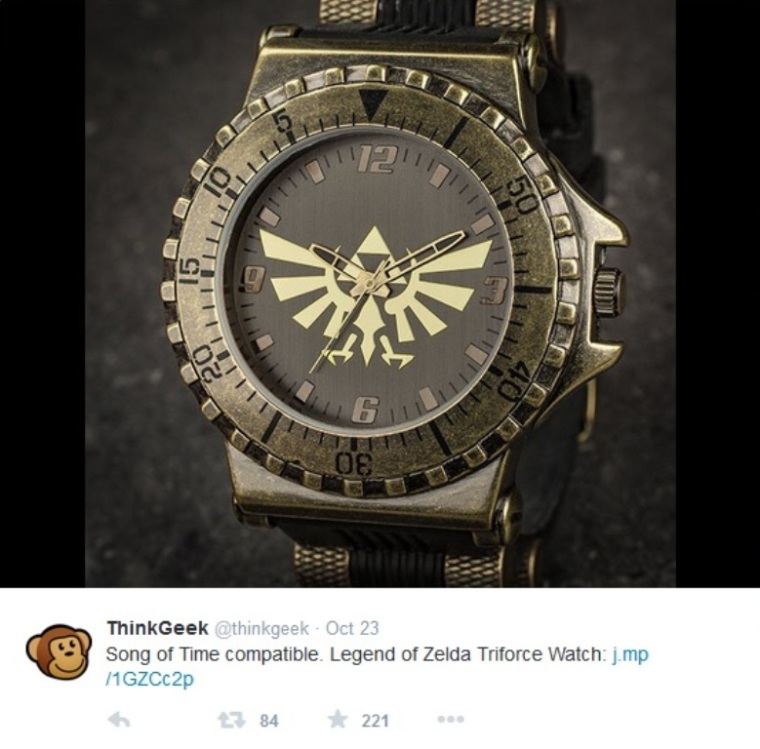 ThinkGeek has just released an exclusive "Legend of Zelda" watch with the Hyrule crest.
American online retailer ThinkGeek has recently launched officially licensed "The Legend of Zelda" merchandise in the form of a wristwatch exclusively available originally at its website.
The watch, housed in a stainless steel case brushed-bronze metal body, features the Hyrule crest on its face, strapped on the wrist with an adjustable strap made of silicone.
The ThinkGeek exclusive timepiece follows the Japanese time movement, with the face measuring 1 ¾-inch in diameter, with the strap lengthening from 7 to 9 ¼ inches long.
The watch comes with batteries. It is featured in photos worn on a male wrist, given its larger watch face and rugged design.
Priced at $39.99, "The Legend of Zelda" watch has also been spotted on eBay and on other online shops since ThinkGreek debuted the timepiece on its site a few days ago.
"The Legend of Zelda" watch isn't the first official merchandise ThinkGeek has in its inventory. It has over 30 other items on stock, including action figures, toys, clothing, and other "Legend of Zelda" memorabilia.
"The Legend of Zelda is a fantasy action-adventure title from Capcom, Nintendo, Vanpool and Grezzo, which incorporates various elements in a puzzle-solving video game. It was first released in 1986.
The story focuses on main protagonist and playable character, Link, who is tasked with the rescue of Princess Zelda and the land of Hyrule from the chief villain, Ganon.
Link is also pitted against other antagonists and in other settings based on other titles of the game that have been released since the 1980's, the latest being "The Legend of Zelda: Tri Force Heroes, which was released two weeks ago.
Fans are still awaiting the launch of "The Legend of Zelda" for Wii U, with franchise director Eiji Aonuma assuring fans the Wii U version of the game is still part of Nintendo's plans.