Tom Cruise Denies 'Disgusting' Suri Abandonment Reports Amid $50 Million Lawsuit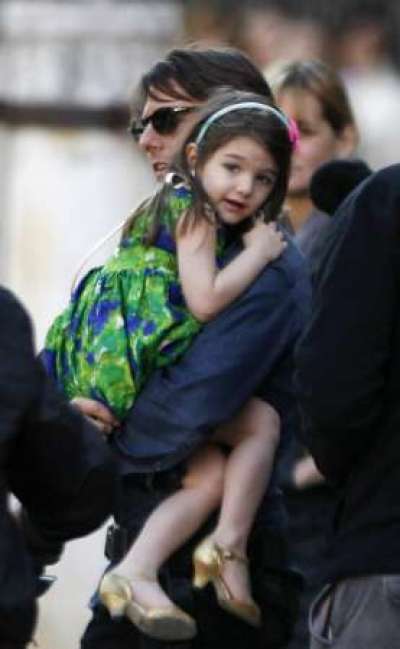 Tom Cruise denied claims that he abandoned his daughter Suri in a Federal declaration filed Tuesday in Los Angeles relating to his lawsuit against Bauer Publishing Co.
In a sworn deposition the Hollywood actor, 50, described two "abandonment" stories printed in In Touch Weekly and Life & Style magazines in 2012 as "disgusting" and insisted that he maintains a close bond with the 7-year-old daughter he shares with actress Katie Holmes. Cruise previously filed a $50 million lawsuit against Bauer for defamation and the case is ongoing.
"I have in no way cut Suri out of my life - whether physically, emotionally, financially or otherwise," Cruise wrote in a two-page legal filing.
"Even during the times when I was working overseas and was not able to see Suri in person, we were (and continue to be) extremely close," he explained.
Cruise, who agreed to give Holmes primary custody of Suri, was photographed with his daughter in the months shortly after his divorce was finalized. However, In Touch magazine ran a story in July 2012 implying that the actor had turned his back on his child, which prompted his attorneys to file suit. A Life & Style story made similar allegations.
"What I find most disturbing is that I have to sit here and look at this photograph of my daughter with 'Abandoned by Daddy'—to me, that is what sticks out the most," Cruise said in his Sept. 9 deposition according to E! News.
"'He chose Scientology over Suri for good'...'Has he chosen Scientology over Suri for good?'... 'Abandoned by Daddy.' I mean come on, that is absolutely disgusting," he continued reading, per the U.S. District Court filing.
InTouch ran a story which was accompanied by the defamatory headline "Suri in Tears: Abandoned By Her Dad," which immediately raised concerns amongst Cruise's camp, who have worked tirelessly to defend him.
"Tom doesn't go around suing people. He's not a litigious guy. But when these sleaze peddlers try to make money with disgusting lies about his relationship with his child, you bet he's going to sue," Cruise's attorney Bert Fields said previously in a statement to TMZ.com.
"Tom is a caring father who dearly loves Suri. She's a vital part of his life and always will be. To say he has 'abandoned' her is a vicious lie. To say it in lurid headlines with a tearful picture of Suri is reprehensible," he added.