Tom Hanks 'Drunk' Photos With Fan Proves Actor Is 'Awesome?'
Photos of actor Tom Hanks posing with a North Dakota fan have hit the Internet, prompting fans to wonder if the "Forrest Gump" star may have officially become one of the most fun and personable celebrities ever.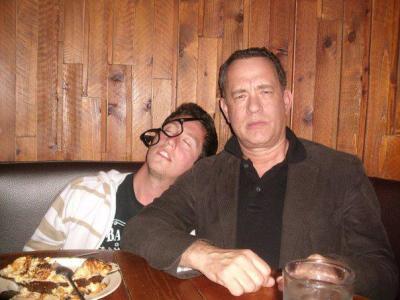 The photos, which were published on the image sharing website Imgur, have gained 1 million views since their debut Sunday, Aug. 26.
The three photos feature Tom Hanks, 56, posing with a fan pretending to be asleep from drinking too much while sitting in a restaurant booth.
In one photo, Hanks pretends to be drunk while the fan slumps on the Academy Award winner's shoulder, while in another the fan wears Hanks' black rimmed glasses. The third photo shows Hanks pointing and laughing at the fan, who still appears to be asleep.
"My friend met Tom Hanks, stole his glasses and pretended to be wasted," reads the headline accompanying the three images in their post on Reddit, a social link-sharing website.
Hanks has been known to have a quirky personality, often tweeting eccentric jokes on his Twitter account, signing them with the moniker "Hanx." The actor has also shared comedic videos, including one which features his morning commute personalized with sound effects.
Critics contend that the photos posted of Hanks with a fan will surely gain him more popularity, as he is not necessarily the most-watched celebrity, in comparison to Kim Kardashian or Ashton Kutcher.
"There are zero actors as awesome, classy, and talented as T.Hanks. Young Hollywood needs to learn from this man," commented user "katinthehat" on Imgur.
"Everyone loves Tom Hanks!" commented Imgur user Thomas Orion.
Hanks' quirky, carefree personality is reminiscent for many of fellow actor Bill Murray, who reportedly often arrives to random parties uninvited and takes pictures with non-celebrities for them to post on the Internet.