U.S. Missionary Describes Dramatic Rescue of Iraqi Girl Trapped Behind ISIS Lines
An American missionary and a group of Iraqi soldiers and firemen bravely risked their lives in rescuing a 17-year-old girl trapped in the rubble of her destroyed home in western Mosul, Iraq in an area controlled by the Islamic State (ISIS).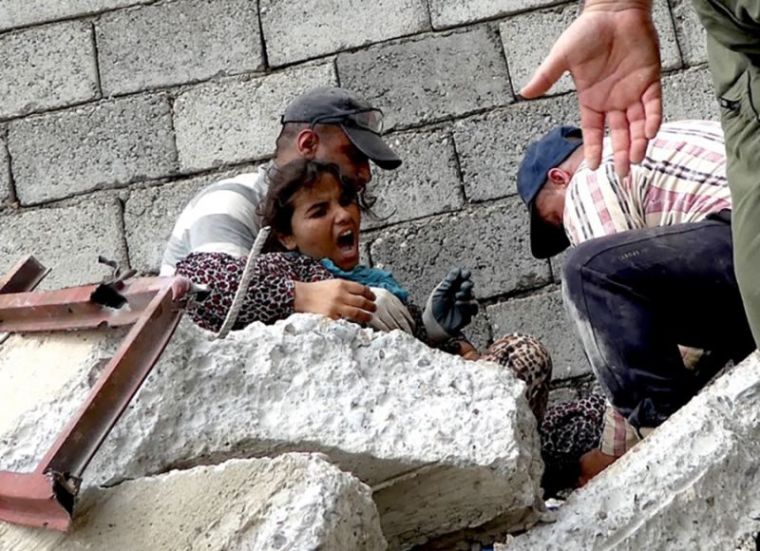 In a letter he sent to Faithwire, American missionary David Eubank of the Free Burma Rangers detailed the highly risky operation they conducted on Saturday.
Eubank said the girl, named Rahab, had been pinned down by the collapsed walls of her family's house, which is situated in the combat zone. The surviving members of her family requested for help after evading ISIS gunfire.
Eubank said he joined the group of armed Iraqi rescuers who quickly assembled to rescue Rahab.
"As we approached the building she was trapped in we found our way blocked by obstacles ISIS had put up and rubble from the fighting. We took many wrong turns under ISIS fire to find a way," the American missionary wrote.
He said while they were rescuing Rahab, ISIS fighters attacked them from three sides.
Still under fire, the Iraqi volunteers and soldiers worked to dig Rahab out. As the digging and exchange of gunfire were going on, Eubank wondered if the girl was still alive.
When he heard her cry out, Eubank said his "heart [leapt] within me."
As the rescuers were carrying the injured Rahab out, the ISIS fighters even intensified their fire.
Eubank said they had to fight their way out. "We got in the Humvees but soon were stuck and almost flipped our Humvee. We backed up and prayed and found another way," he said.
Finally, they managed to get out of harm's way. "I was filled with gratitude," the American missionary wrote.
He said he accompanied Rahab in the ambulance that took her to a field hospital. On their way, Rahab was smiling as she told him, "God sustained me [throughout] the time I was trapped. Thank you for helping me. I love you. If you have another daughter please name her after me."
Eubank replied, "You are a tough lady! Yes I will do that if we have another daughter. I am your friend forever. I love you too and will help you in anyway I can."
In his letter, the missionary reflected on the miraculous grace they received from God that led to the successful rescue mission.
"My heart is full of gratitude and awe," he wrote. "It still seems [too] good to be true. [Amidst] all the killing we have seen, here is a life snatched from death."
Last January, Eubank told CP in an interview that "there is a rule of thumb" when serving with Free Burma Rangers.
"Wherever we are, whether we are in Burma, Syria or Kurdistan or Iraq, we have the same kind of way of looking at the situation — Wherever the people are, we are," he said. "In this case, the people we needed to help were in Mosul. We were right in with the Iraqi Army, giving them medical care when they got shot, giving food and supplies for the city people."