'X-Men: Apocalypse': First Look at Kodi Smit-McPhee's Nightcrawler Revealed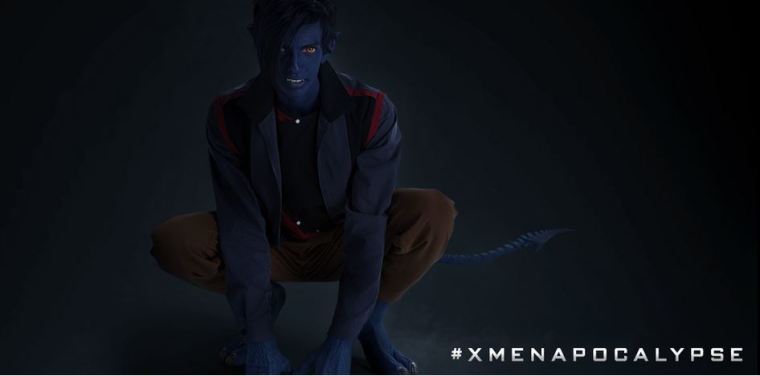 On Monday, April 27, 20th Century Fox and director Bryan Singer released the first image of Kodi Smit-McPhee as Nightcrawler from "X-Men: Apocalypse."
Because the film is set in the 80's, fans get to see a much younger Nightcrawler compared with the character's last appearance in "X2: X-Men United," which was played by Alan Cumming.
Nightcrawler is a blue-skinned mutant with the ability to teleport. In the comics, the character is the son of Mystique and Azazel, though this element in his background will most likely not be included in the upcoming 'X-Men' film.
Shortly after the studio has unveiled official photos of Nightcrawler, some new set photos from the film have leaked online, giving fans a glimpse of "Game of Thrones" star Sophie Turner as a young Jean Grey, Tye Sheridan as Cyclops, and Lana Condor as Jubilee, according to Cinemablend.
The images were posted online by Twitter user @FrancescaY, who apparently lives in the area where "X-Men: Apocalypse" is currently filming. In the photos, Nightcrawler appears to be wearing a jacket similar to the one that Michael Jackson wears on the "Thriller" music video. Cyclops appears to be wearing blue eyeglasses, while Jubilee has a pair of pink sunglasses on top of her head and is wearing a yellow jacket. The shot doesn't show much of Jean Grey's outfit, though Turner's red hair is on point for the character.
Aside from the four actors in the Twitter picture, the film stars James McAvoy, Michael Fassbender, Jennifer Lawrence, Nicholas Hoult, Evan Peters, Oscar Isaac, Alexa Shipp, Rose Byrne, Ben Hardy, Olivia Munn, and Lucas Till.
"X-Men: Apocalypse" is due in theaters on May 27, 2016.