Yoga Pants Recall: Too Revealing, Warns Lululemon
Lululemon has issued a recall on its yoga pants after discovering the certain pairs are "too revealing."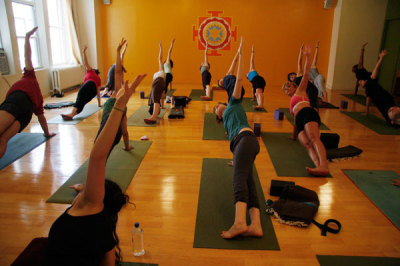 "We want you to Down Dog and Crow with confidence," the company said in a statement on Monday, announcing the recall of the overly sheer yoga pants. The makers have insisted that the pants are made of the exact same material, but new production of the material appears to more sheer.
"At the beginning of March, our stores and ecommerce site received some black luonwomen's bottoms that didn't meet our high standards," the company said, issuing a warning. "The materials used in construction were the same but the coverage was not, resulting in increased sheerness."
But it appears that quality control within the company has been an issue for some time. Company shares plunged 8 percent on Tuesday and lost "buy" ratings from analysts, the Associated Press reported. Sam Poser of Sterne Agee & Leach suggested that the company did not have the "proper oversight in place."
The pants are manufactured in Asia in the same factories the Lululemon has employed since 2004. And while the company states that the issue is only with the black luon women's bottoms, customers stated that they had similar issues with the company's products before.
"I write this out of love for lulu. I used to be a huge HUGE lulu fan. But people have been writing about this for awhile now and it's disappointing to read that they 'recently' learned about it," one customer said in response to the company blog. "While they're looking into this, I hope they also look into other quality problems other customers have been writing about for long time too."
"Great, you're accepting the crappy black luon back, but what about all the sheer colors? Too little too late for this buyer," a second customer added.