'Pagan idol to abortion': Critics lambast NYC's Ruth Bader Ginsburg statue as 'satanic'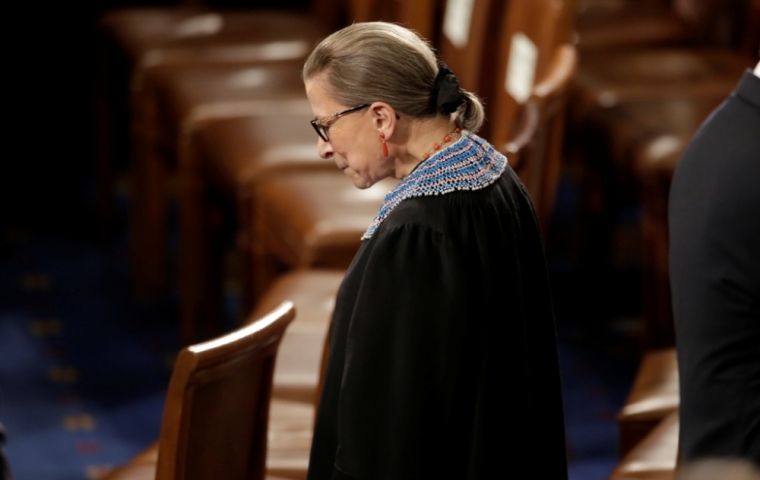 A sculpture of the late U.S. Supreme Court Justice Ruth Bader Ginsburg atop a New York City courthouse is attracting criticism, with observers claiming the statue has a "demonic" appearance and celebratory nature towards abortion. 
The sculpture, titled "NOW," was designed by Pakistani American artist Shahzia Sikander, who claims that the statue is part of an "urgent" and "necessary cultural reckoning" in New York. 
"The citizens of New York should be outraged that their hard-earned tax dollars have been used for such an offensive display," Penny Nance, CEO of the social conservative activist group Concerned Women for America, the nation's largest women's public policy organization, told The Christian Post in an email.
"This is the same city that just tore down a statue of Teddy Roosevelt because it was too 'controversial' but a satanic symbol to glorify the murder of a child in the womb is not?  No wonder New Yorkers are leaving in droves. No one should be forced to look at this disgusting graven image of evil. Tear down this statue."
Billy Gribbin, communications director for Rep. Rich McCormick, R-Ga., wrote in a Wednesday tweet that "[t]hey turned abortion into a pagan idol to worship and put it on a courthouse."
New Founding and American Firebrand digital director Logan Hall also took issue with the statue, writing that "decline is a choice" in a Wednesday tweet. 
"NYC is taking down a statue honoring teddy roosevelt and putting up a statue honoring some hideous abortion idol," Hall wrote.
In another tweet critiquing the statue, Micaiah Bilger, a staff writer for LifeNews.com, called the figure "demonic." 
"When Gavin Newsom, Gretchen Whitmer and others promise to 'fight like hell' for abortion, I think we need to start taking them literally," Bilger wrote. "Abortion is demonic."
The statue of Ginsburg was installed last week on the roof of the Appellate Division Courthouse of New York State, First Department on Madison Avenue.
Sikander's artwork depicts the justice with braided hair in the shape of rams horns, skeletal branches protruding from each side like tiny arms, and wearing a lace apron resembling the one Ginsburg wore over her robe. 
Daily Wire podcast host and author Andrew Klavan tweeted that the "New York Courthouse has added this aesthetic atrocity to its sculptures of great lawmakers." 
"It is meant to honor Ruth Bader Ginsburg's pro-abortion stance by depicting a woman with demonic goat-horns who has clearly lost the power to reproduce," Klavan wrote. "Or something."
According to a Wednesday profile of the statue by The New York Times, it marks the first female figure to adorn the court's building. The courthouse's plinths contained statues of male lawgivers before the recent addition of Ginsburg.
"She is a fierce woman and a form of resistance in a space that has historically been dominated by patriarchal representation," Sikander told NYT. 
The artist said that the statue is titled "NOW" because it's needed "now" as states enact abortion restrictions due to the overturn of Roe v. Wade last summer. The U.S. Supreme Court ruled in Dobbs v. Jackson Women's Health Organization that there is no constitutional right to abortion, restoring regulatory authority over the practice to the states. 
Another statue Sikander designed is an 18-foot tall recreation of the same statue, except this piece depicts Ginsburg wearing a metal cage as a hoop skirt. The statue, titled "Witness," is located in Madison Square Park across from the court building. 
"Struggle is a never ending process. Freedom is never really won," Sikander wrote in a tweet last week. 
"'You earn it and win it in every generation.' Never fading words by Coretta Scott King. Inspired and humbled that Havah..to breathe, air, life' 'NOW' & 'Witness' are open on MLK day Jan16, 2023."
While Ginsburg consistently voted to strike down abortion restrictions during her tenure on the nation's high court, the late justice voiced objections to the reach of the 1973 Roe v. Wade decision and its impact. 
During a talk at the University of Chicago Law School on May 11, 2013, Ginsburg stated, "Roe isn't really about the woman's choice, is it? It's about the doctor's freedom to practice. … It wasn't woman-centered, it was physician-centered."
"My criticism of Roe is that it seemed to have stopped the momentum on the side of change," Ginsburg added. 
In 2019, Ginsburg recalled when President Bill Clinton considered nominating her to the Supreme Court in 1993 during an appearance on "The David Rubenstein Show: Peer-to-Peer Conversations." The justice claimed that the Texas abortion law before the Roe ruling was the most "extreme" in the nation, only permitting abortion if the mother's life was in danger. 
"I thought that Roe v. Wade was an easy case and the Supreme Court could have held that most extreme law unconstitutional and put down its pen," she said. "Instead, the court wrote an opinion that made every abortion restriction in the country illegal in one fell swoop, and that was not the way that the court ordinarily operates."