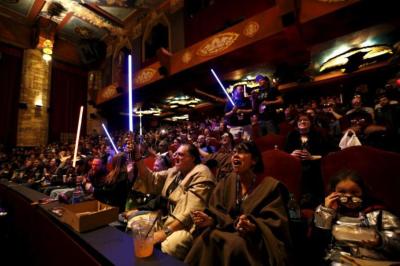 A question that frequently comes to my mind is "Are there any other ministers of the Gospel who have sought and sought for the answer to my common question, namely 'Why don't more people come to the altar, after I have preached the message I feel God has put on my heart?'" Has anyone else beside me dared to venture into the falsely deemed "forbidden" caverns of history to find the answer to that question? Perhaps like me others have even read nineteenth century sermons to see if there is a missing tool in our toolbox in today's church?
Allow me for just a minute to talk about a tool that was a weapon from the infamous Star Wars movies. It has been to me the most iconic. The lightsaber! It has been documented that George Lucas invented the lightsaber when he needed to come up with a weapon that seemed to fit the Jedi characters, and the rest is history. Obi-Wan in Episode IV called it "an elegant weapon for a more civilized age."
In these Last Days, I believe what God is going to give the church is such a rich anointing that our Swords of the Spirit are going to be Holy Ghost empowered lightsabers that can cut through even the thickest walls an individual has put up resisting God's truths. What I am about to share with you is guaranteed to get you thinking!
As I mentioned I did spend time studying some of the sermons of John Wesley, Charles Finney, Jonathan Edwards, and others. Their fiery references to God's Judgment, The Fear of God, The End Times, and Hell without compromise definitely gave me multiple WOW moments! Charles Finney, a converted lawyer from Sackets Harbor NY who rode from town to town on horseback or buggy led over 800,000 people to Christ in his lifetime. He is reported to have the highest "stick" rate of any evangelist in history. 85% of his converts did show up in church and went on to lead Godly lives in their communities.
As I read I kept asking myself "Would these preachers be allowed to preach in the pulpits of America today?" Over and over, as I read, I knew the answer was no, but if the answer was no, then why? What did they understand about the Bible that we do not understand today? I just could not leave it alone so I continued to seek the Lord about it in prayer.
It seemed like the Lord kept leading me to 1st Corinthians 14:3 (KJV) which says "but he that prophesieth speaketh unto men to edification, and exhortation and comfort.
Paul in teaching the new Christians at Corinth was giving them a three fold outline to describe the three areas that the Holy Spirit will move in a prophesy. Many modern churches interpret this to mean preaching as well. Edification comes from the Greek word "oikodomen" which literally translated means the act of building up or to build up the church. Exhortation comes from the Greek word "paraklesin" which literally means "a calling to one's aid." Comfort explains itself.
It suddenly struck me that some modern Bible translators had possibly taken a lot of liberty in a not so suble effort to cover up the full meaning of the word "exhort". Once I realized this, I then took time to look up the word "exhort" in some very old English dictionaries so that I might better understand how it used to be interpreted. To my amazement I discovered that exhort used to mean: "To charge, challenge or even rebuke!" I then found other New Testament references such as the writer of Hebrews statement in 13, verse 22 "And I beseech you brethren suffer the word of exhortation for I have written a letter to you in a few words."(KJV) The Greek word "paraklesin" (Exhort) is found used to admonish in other scriptures as well.
The old time preachers could fearlessly preach the entire counsel of God without fear of being out of harmony with the scriptures because they understood this important tool in their toolbox. The understood that sometimes drastic measures have to be taken to save a drowning man. That sometimes the most loving thing you can do is confronting someone with the truth.
I have noticed that there are three basic professions of whom we allow to do this and one, which we do not. We allow our doctors to look us square in the face and tell us if we have cancer or other life threatening illness. We do this because we believe first that they know, second that they care, and third that they are going to be the one to help us through it. Secondly we allow our coaches to exhort us. "Come on Nolan, get back out on that floor and play some defense, I tell you, defense! Work that ball in and don't force the shot. Come on lets get some hustle out there team!" Oh yes we let them yell, holler, and even cuss at us without a complaint because they are the coach. Thirdly, we allow our bosses to talk to us that way. I don't need to give any examples because we all know we do. Why? Because we do not want to loose our jobs! However the profession that we don't like being exhorted in is by our pastors!
Regardless of what our culture prefers for us to do, my fellow pastors, teachers, evangelists, and revivalists here is a new tool for your toolbox. The new lightsaber energized by the Holy Spirit using the lost art of exhortation in your sermons. A little warning though. With great power comes great responsibility. The devil has taken a lot of years and effort to bury this truth. He will not want you digging it up. As you use it plan on a counter attack from the Empire! However Jesus is always greater! He will teach you sustaining you always!
Rev Nolan J Harkness is the President and CEO of Nolan Harkness Evangelistic Ministries Inc. since 1985. He spent most of his adult life working in youth ministry. He also felt the calling of Evangelist/Revivalist and traveled as the door was open holding evangelistic meetings in churches throughout the Northeast. His website is www.verticalsound.org.