Chick-Fil-A's DEI policy an intentional shift to progressivism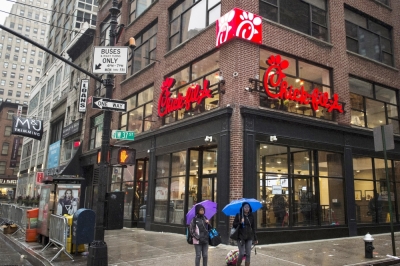 This week, controversy was sparked over the Diversity, Equity, and Inclusion (DEI) portion of Chick-fil-A's website. The content, apparently not entirely new, brought some calls for boycott on social media. To be clear, this piece is not one of those calls. But it is still important for Christians to recognize the situation for what it is: it is a shift away from the values that we appreciated about the company.
The DEI page reads that "One of our core values at Chick-fil-A, Inc. is that we are better together."  And "Chick-fil-A, Inc.'s commitment to being Better at Together means embedding Diversity, Equity & Inclusion in everything we do."
It is true that the company explains that it aims to achieve DEI by promoting equal opportunity, understanding and honoring unique experiences and perspectives, and promoting a culture where all individuals can thrive. But this is mere flowery language that provides cover for something more nefarious.
Based upon this author's observations on social media, many Christians are falling for these platitudes. After all, it is true that environments free of discrimination sound loving.
But language is not always meant to be taken at face value. The verbiage used signals the intent. Here, Chick-fil-A signals pride in its policy. It created a slogan to go along with it. It is not bland boilerplate hidden deep within the website's policy section. Rather, it reads like a press release. And, it uses the words "diversity, equity, and inclusion," which is the same exact language used by progressives. It signals alignment with progressivism. And that is the concern.
Progressivism is never inclusive of the Christian worldview. Progressivism seeks to cancel those who believe in the sanctity of marriage, those who believe that our sex/gender is God-given and cannot be changed, and those who believe that one should not be treated according to their skin color. These Christian ideals are pushed out of the spaces that progressives take over.
Further concerning, and telling, is the statement that this DEI effort is involved in "everything we do." So, any claim that there is simply an effort to be inclusive of those who are different is not true. "Everything" includes the company's beliefs, values, and mission. The same mission that used to be unequivocally Christian.
DEI is not Christian. It is rooted in critical theory, which claims that society is to be divided into oppressor/oppressed groups which view people based on their sex, race, sexuality, etc. classifications. So, policies that focus on DEI would, by extension, seek to remedy the "oppressed" groups by giving them advantages. And, when a company makes an effort toward "valuing differences," as Chick-Fil-A puts it, they are trying to accommodate lived experiences that value one's perception over objective truth.
Scripture tells us to not place focus on oppressor/oppressed classifications. "For there is no distinction between Jew and Greek; for the same Lord is Lord of all, bestowing his riches on all who call on him." – Romans 10:12.  Historically, the Jew and Greek would have had an oppressor/oppressed dynamic. And clearly, the Romans were focused on this dynamic. But Paul tells us to only focus on those who "call on him."
Similarly, we cannot place too much emphasis on "lived experience."  Lived experience requires us to give deference to one's own experience rather than objective truth. In this time in history, this "lived experience" requires us to hear how one came to adopt unbiblical life decisions. But objective truth rests in the Bible. One cannot reconcile some lived experiences with Biblical truth.
This isn't to say that you are somehow endorsing untruth or an unbiblical worldview by eating at Chick-fil-A. But the currents of the world right now are dangerous. The Church cannot continue to be unaware of the significance of messaging. Christians must be able to recognize when there is danger so that they do not drown in the worldly currents that presently exist. And with DEI, the danger is real. 
As for Chick-fil-A, it is hard to understand this shift. A good portion of their success has come from them being "one of us." Christians rightly admire and support people and companies who do not conform to the pattern of this world. Sadly, Chick-fil-A seems to be doing just that.
Curtis Schube is from Harrisburg, Pennsylvania and is a former constitutional and administrative law attorney and current executive director of a think tank