Ouija Boards Are Growing in Popularity Among Christians
Ouija boards are at the fifth spot in the top holiday gifts for this season.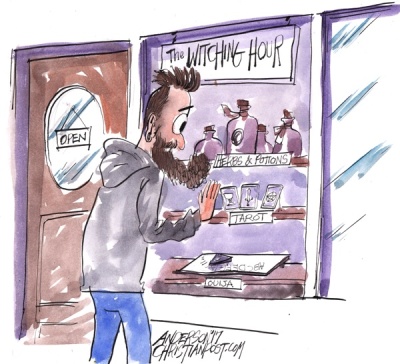 A new Google report reads, "Certain retro toys are making a comeback this season. Thanks to the new movie "Ouija," searches for "Ouija boards" are up 300 percent since October. That puts Ouija boards at the fifth spot in the top holiday gifts for this season.
Often called a spirit board or talking board, a Ouija board is a flat board—kind of like the game of Monopoly or Clue—that dons the alphabet, the words "yes," "no," "hello" and "goodbye," the numbers zero through nine and various other cryptic symbols. Players put their fingers on a planchette, which is small piece of wood, that purportedly moves supernaturally to spell out words.
American spiritualist Pearl Curran turned what toy company Hasbro intended to be an innocent game into a demonic channeling tool during World War I. She and other diviners claimed the Ouija board could deliver messages from the dead and other spirits.
It's clear that this generation is fascinated with the spirit world. And the devil is clearly driving toward a great awakening of the occult.
"Ouija" is not a new movie, but was a blockbuster in 2014. The demonic film brought in $103.6 million worldwide against a $5 million budget. Products followed on that success with "Ouija: Origin of Evil" in 2016. That film grossed over $81 million. Its seems celebrating darkness remains profitable.
This revival of the devil's witchcraft is unto an awakening to the occult that will set the very elect up to be deceived, it if is possible (see Matt. 24:24). False signs and wonders will rise, along with false prophets and false christs.
As you may know, I've written a book dealing with spiritual witchcraft called Satan's Deadly Trio: Defeating the Deceptions of Jezebel, Witchcraft and Religion. Many times, infirmities are rooted in the devil's witchcraft—and sometimes it comes from the spirit of Jezebel. The Bible talks about Jezebel and her witchcrafts (2 Kings. 9:22). Witchcraft can't heal you, but it can release confusion, sickness and disease, depression and other ailments. At our recent women's conference, Jesus healed 23 ladies—and several of them were afflicted with witchcraft.
We need to pray. A generation of youth has been exposed to witchcraft games, television shows, movies and more. The enemy is seducing people who are looking for the supernatural into a counterfeit movement could have dangerous eternal outcomes. In the book of Revelation, God has made it clear the fate of those who practice such things: sorcerers will have their portion in the lake that burns with fire and brimstone (see Rev. 21:8). Let's keep pressing back this darkness.
Jennifer LeClaire is an internationally recognized author, apostolic-prophetic voice to her generation, and conference speaker. She carries a reforming voice that inspires and challenges believers to pursue intimacy with God, cultivate their spiritual gifts and walk in the fullness of what God has called them to do. She is the senior leader of Awakening House of Prayer in Fort Lauderdale, FL, founder of the Ignite Network and founder of the Awakening Blaze prayer movement.
Originally posted at Jennifer LeClaire Ministries.