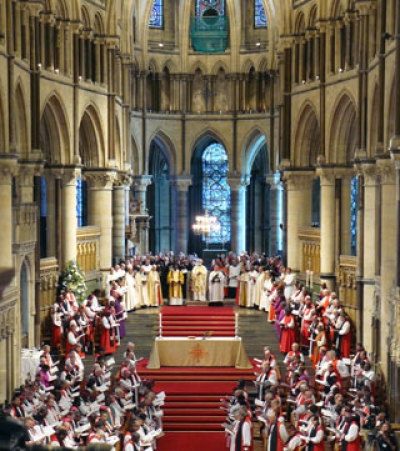 The Apostle Paul wrote in 1 Corinthians 11.19 "there must be factions among you in order that those who are genuine among you may be recognized"
Unity in Christ is important (Galatians 3.28) and special (Psalm 133). "If possible, so far as it depends on you, live peaceably with all." (Romans 12.18) And yet our pursuit of peace and unity must never come at the expense of holiness (Hebrews 12.14) – that 'set apart' mentality and morality that distinguishes those who are for Christ from those who are in action if not in word anti-Christ.
There have been, are, and will be occasions when God desires division and when splits and schisms are truly sanctified occurrences. The Apostle Paul warns the church in Rome:
"...watch out for those who cause divisions and create obstacles contrary to the doctrine that you have been taught; avoid them. For such persons do not serve our Lord Christ, but their own appetites, and by smooth talk and flattery they deceive the hearts of the naive. " (Romans 16:17-18)
Paul calls for division from those who cause division primarily through their separation of from Biblical orthodoxy. Elsewhere Jude warns that Christians contending for the faith will face opposition from "scoffers, following their own ungodly passions. It is these who cause divisions, worldly people, devoid of the Spirit." (Jude 18)
Christians and churches are increasingly faced with a choice. Unite in error or divide over truth. While easy to unite in error, churches who do this displease God and fail to truly help this confused sin-sick world, losing their role as a lampstand for Christ and ensuring their condemnation. Dividing over truth, while messy, sad, and damaging comes having exhausted all options for unity in truth and with the promise of protection and preservation given to all who remain faithful to Christ.
Consider the example of St Thomas' in Edinburgh, Scotland one of the largest churches in Edinburgh. St Thomas' has been a part of the Scottish Episcopal Church (SEC) but has now voted to leave that wing of the Anglican Communion. The reason? The SEC has recently decided to become the first Anglican body in the UK to officially endorse same-sex marriage.
St. Thomas' is not alone in their departure. While separation from the SEC has not occurred en-masse several other churches have left or are considering leaving.
David McCarthy, Rector at St Thomas' has said the decision was "very painful". St Thomas' decision does not come from an unhealthy sadistic craving for schism. McCarthy says, "We have not done it easily. We have had many tears and many sleepless nights. It is a tragic necessity."
McCarthy is right. St Thomas' and others' separation from the SEC is divinely inspired and is the only option for the sake of their own standing before God. As Rev. McCarthy notes "it is the Episcopal Church who are leaving us. They are leaving orthodoxy."
What can be defined as 'orthodoxy' in the Christian faith has been set and established. God's created plan, pattern, and purpose for marriage as between one man and one woman for life is inarguable. The Bible's millennia old teaching has not shifted with recent trends. Indeed the Scriptures recognize mankind's propensity to ignorance and instability and resulting attempts to twist its teaching (2 Peter 3.16), departing from orthodoxy "by devoting themselves to deceitful spirits and teachings of demons" (1 Timothy 4.1).
What then?
St. Thomas' and other churches' amputation of the gangrenous SEC must be seen as sad, but life-saving. Sad, because the SEC has forsaken its first love and adulterously embraced the world's heterodox prostitution. Sad because in succumbing to society's sexy come hither, the SEC has irreversibly infected itself in such a way as to ensure its being cut off from God's Kingdom. Life-saving because in separating themselves, St. Thomas' and others have indicated their desire to continue serving and obey God and His way.
The schism occurring within Anglicanism over same-sex marriage will – and indeed must continue – for holiness to be kept. For those who in pain are separating themselves from their wayward association, be encouraged and remember 'We must obey God rather than man' (Acts 5.29). For those still floundering in the increasingly murky depths of church networks embracing apostasy there is one call; in the words of the Apostle Peter on Pentecost "Save yourselves from this crooked generation."
Regan King pastors The Angel Church in the Angel Islington area of London, England. He also works as a Communications Officer for Christian Concern and helped with the set up and running of the Pregnancy Crisis Helpline. He is the author of
#TBH: Basic Challenges to Millennials Who Can't Even.
You can read more of his recent writing at
www.reganbking.com
.