Mennonite Church USA's Largest Conference Leaves Denomination Over Homosexuality
Mennonite Church USA's Largest Conference Leaves Denomination Over Homosexuality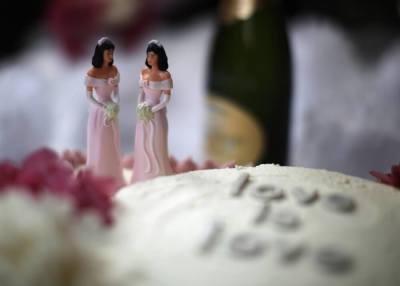 The largest Mennonite conference in the United States has officially split from the Mennonite Church U.S.A. over changing views on homosexuality.
The Lancaster Mennonite Conference, which has over 179 congregations across New York, Pennsylvania and Ohio and over 70,000 members, officially left the denomination on Monday after about 82 percent of voting congregational leaders chose in November 2015 to take such an action.
The shifting leniency of the Mennonite Church USA, an Anabaptist denomination, toward same-sex marriage was one of the reasons why the conference felt the need to split.
Conference Moderator L. Keith Weaver told Lancaster Online that church polity, vision and governance were other reasons for the change.
Churches within the Lancaster Mennonite Conference were given two years to decide whether or not they wish to remain in the conference.
According to Lancaster Online, there were only 17 churches up in the air about whether they would leave the conference. Nine of those churches decided to remain affiliated with the conference, while eight left the conference and joined the Mennonite USA's Atlantic Coast Conference.
Merv Stoltzfus, executive conference minister for the Atlantic Coast Conference, told the local news outlet that the eight churches that decided to leave the Lancaster conference did so because they wanted to remain within the Mennonite Church USA.
The Mennonite Church USA officially classifies homosexuality as sin and officially defines marriage as being between one man and one woman.
But as the Religion News Service points out, the denominational rules limit the body's ability to discipline regional conferences that allow pastors to marry lgbt couples or hire gay and lesbian pastors.
Although the Mennonite Church USA has punished pastors who have performed LGBT ceremonies in the past, individual pastors pushed for reform on hiring policies and other stances on LGBT issues.
In 2015, Mennonite Church USA adopted a resolution calling on those within the Mennonite Conference USA to "offer grace, love and forbearance toward conferences, congregations and pastors in our body" who conduct same-sex marriages.
Even though the Mennonite Church USA still holds that marriage is only between one man and one woman, Stoltzfus asserted that the difference now is that "there's more room and space within MC USA in our polity for this diversity or disagreement."
Although eight churches are leaving the Lancaster Mennonite Conference, Lancaster Online reports that since the conference voted in 2015 to leave the denomination, 13 churches have joined the conference. Meanwhile, 17 other congregations will join the conference in March.
Additionally, 14 churches from the Dominican Republic are expected to join the conference.
As far as what the conference's identity will be now that it has left the Mennonite Church USA, Weaver told Lancaster Online that "the answers will need to be discovered going forward."
"Rather than an inward focus of self-preservation, congregations are cultivating an outward focus in which attending to the material and spiritual needs of the neighborhood becomes the mission," Weaver said.