Finding Your Place in God's Story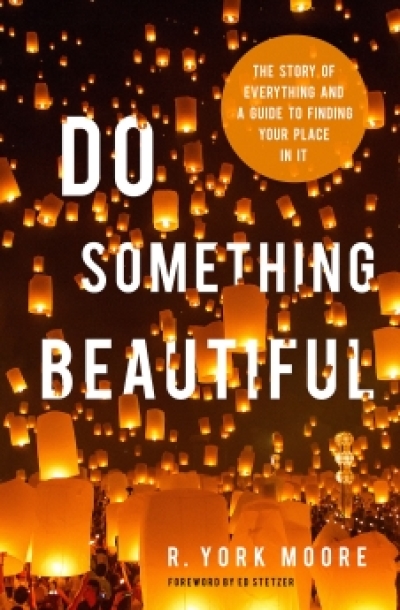 I'll never forget that ordinary day in late summer when light from another world came to my home. I was seven years old and we had just moved into our first real house. Before that, my family had been homeless off and on for the early years of my life. Living in and out of cars, abandoned homes, and random apartments seemed like an ordinary, normal way to live—as a child, I didn't know much better. That summer, however, my parents managed to get enough money together to rent what my brothers and I have come to refer to as the "farmhouse." It was nothing more than an old rundown house at the end of an old rundown street, but as I would learn, it was a place filled with wonder and magic.
The farmhouse had an old, musty, collapsing barn next to a field of mud. The muddy field was filled with remnants of a time gone by when the previous occupants grew corn and potatoes. Our life of poverty and displacement seemed as if it had come to an end with that little farmhouse. We moved in late into the summer and I'll never forget the first truly "ordinary" day of play. The day was hot and salty. My seven year-old cheeks streamed with sweat and grit from a long day of playing in the field of mud and in that old barn. We had spent the entire day climbing trees, playing hide and seek, feeding bugs to spiders, and throwing mud and vegetables at each other. It was a dirty and hot day I'll remember forever! As the day ended and dusk fell, our mother called us inside. While we reluctantly lumbered toward the door, something magical began to happen. At the very end of that ordinary day, above that ordinary field, a sign of wonder began to appear just as night fell.
In the distance, I could hear ringing and clicking, a strange buzz that I've now come to know as a cicada bug. Stars began to fill the reddish-blue sky. It seemed as if the world had come to a holy hush for a moment of magic. Another world invaded that field, eclipsing the sweat and the grit and the mud. That invasion ushered us into a moment of wonder, awe, and joy that has marked me to this day. There it was, flickering over the field—blips of light, strange glows of green speckled above the mud and corn. In a trancelike state, my brothers and I stared into the night as that ordinary field flickered into an extraordinary stage of light and wonder. We grabbed an old Mason jar from the barn and ran into the field to capture light in a bottle. Within a few minutes we had a dozen or so phosphorous bugs glistening in our jars. We went yelling, "Mom! Our new house is magic! Look at these bugs with butts of light!" With a laugh, our mother began to explain what these extraordinary creatures were. As reasonable and scientifically sound as her explanation was, at the age of seven they were still magic to me.
In fact, now some forty-plus years later, whenever a field comes alive with little lights at dusk, my mind, my heart, my soul are connected to that moment when I was sure that the world was filled with magic. Fireflies to me are like an artifact from another world, something so wondrous I find it hard to believe they are just a normal, natural part of this world. Just maybe they are not. The fireflies stir that longing in us for magic, for a better world. Even more than that, they're a sign that the world I'm longing for—that we're all longing for—is real and interrupts and breaks into our world for brief moments full of light. The fireflies are harbingers of a world to come: a world that is invading ours, a world that is supposed to be and one day will be. When we get glimpses of such a world, I wonder, What does my life today have to do with the bigger picture of it all?
The story of everything is unfolding all around us every day. Sometimes it's a whisper and sometimes it's a shout, but all around us are the smells, the sights and sounds, the texture of another world. In fireflies and ocean waves, in the kindness of a stranger, in architectural design and fashion, and in the gut-shaking laughter of a family gathering—we see in our everyday lives proof of something more. That something more is another, better world invading ours. At first, we can only see it in little blips here and there. There is a story at play in our lives and in our world, the story of everything. This story focuses on a great invasion of another world that comes to us at first like blips of light hovering over the ordinary sweat and mud of everyday life. Your longings have been right all along. There is evidence of it all around us. Your dissatisfaction with what should not be points the way.
Beauty invades in bursts and moments but never stays for too long. Joy rises and sets, hope emerges and then retreats again like dusk and dawn. Back and forth like waking and sleeping, our world and the world to come sway and rock, calling and retreating, peaking and poking through the dusk. But when we learn the story of everything we begin to see that this other world is unfolding all around us, all the time. This other world can't be stopped; it is invading our lives and our world and it will one day come in full power. This world can be seen in moments of beauty and righteousness, in moments of wonder and awe. This world can be seen in simple things like the laughter of a child but also in complex things like differential equations and astrophysics. It just takes a Mason jar of faith and a willingness to run into the night. As scientific and as sound as the explanations may seem, a magic in the world is unfolding all around—a power in that world to come. And I, for one, believe that if we can embrace the wonder and run like a child again to the source of the light, we will find our place in the story of everything.
Now, when I keep talking about another world it isn't that our world is not valuable, or that our lives are somehow less important. In the story of everything we discover that the world to come makes sense of the world that is now. It brings meaning and focus to the lives we live, and it fulfills them. When the world to come collides with the world that is now, our world will be made right and beautiful; the world will be brought together like it is supposed to be. That's why there is a longing for light within us and all around us that confirms our deepest suspicions and our truest desires; that light says:
There actually is a purpose in this world, there is story to everything, and we have a place in it!
That longing is trying to get us to understand the story of everything and pick up our Mason jars of faith and pursue something beautiful and right.
Taken from Do Something Beautiful: The Story of Everything and How to Find Your Place in It by R. York Moore (©2018). Published by Moody Publishers. Used by permission.
R. YORK MOORE is a speaker, revivalist, and abolitionist. He serves as National Evangelist for InterVarsity Christian Fellowship USA. York became a Christian from atheism while studying philosophy at the University of Michigan. He also has an MA in Global Leadership from Fuller Seminary. York is the author of several books and he lives in the Detroit area with his wife and three kids. For more information, visit
www.tellthestory.net
and follow him on social media channels @yorkmoore.