God's Firefighters Can't Hesitate When the World's on Fire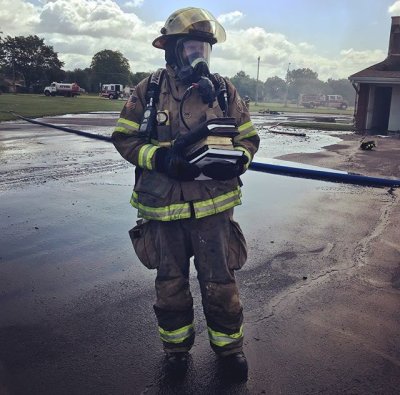 The California wildfires have led newscasts this week, featuring gripping visuals of scarlet flames destroying homes and devouring vegetation, sending up suffocating smoke for miles around. From the safety of my Seattle home, I watch and wonder at the bravery of the thousands of firefighters battling those blazes.
Imagine being these men and women, voluntarily entering a scene that seems straight out of hell. Imagine rushing toward danger even as others are fleeing. Firefighters don't think twice. It's their job to go where lives are at stake.
I believe this is the role of the church in the world. Jesus called his followers to be the firefighters of the world's pain, called to rush toward suffering and bring comfort, healing, and hope. Jesus modeled this, compassionately caring for people in need, even those considered unworthy or untouchable.
When Jesus says, in Matthew 25, "For I was hungry and you gave me something to eat, I was thirsty and you gave me something to drink, I was a stranger and you invited me in ...," he made it clear to us that these acts of succor are not optional – they are, in fact, inextricable from loving him.
Churches are like fire stations where we learn, train, and grow in our calling. But when there's a fire, we've got to get out of there. We've got to respond to suffering in whatever form it takes.
What I see today is a worrisome trend of God's people hesitating rather than rushing to the rescue of those in need. It's no different than if the fire alarm went off and the firefighters simply ignore it. Political rhetoric around those who are "other" has leaked into our thinking, causing us to react in fear toward people who aren't like us. It's as if we think John 3:16 says, "For God so loved the United States of America that he gave his one and only Son ..."
I was encouraged by many Christians' response to the plight of thousands of immigrant children who were separated from their families at the border. We all heard that alarm. Yet it took harrowing images and audio for us to see the humanity of the people branded "illegal." Jesus never questioned a person's citizenship before responding with compassion, so why should we? That's not the role of the church – that's the role of the government. Jesus calls us to help hurting people.
I'm concerned that instead of being known as God's firefighters, as defenders of the vulnerable and powerless, we're increasingly being labelled as uncaring. A Pew survey in May made headlines because it found that only 25 percent of white evangelicals believe our country has a responsibility to accept refugees, lower than any other demographic group, including people without religion. And recently the Washington Post cited a Public Religion Research Institute survey that showed evangelicals as part of a deepening divide on issues like immigration. The op-ed's headline said it all: "So much for caring for strangers."
Of course, many U.S. churches and ministries such as World Relief and Lutheran Social Services are deeply committed to caring for immigrants and refugees, here and around the world. But the research seems to show that a high percentage of us who follow Christ are letting our fear get the better of us. We're not seeing desperate people from outside our borders as the "least of these" Jesus spoke of in Matthew 25. And we're forgetting who we are if we see their suffering and we still stay on the sidelines.
Throughout history, Christians rushed toward fires. In the early 2000s, the American church overcame its initial reluctance to respond to the global AIDS pandemic. AIDS sufferers weren't Americans, and the disease had sexual origins. Nevertheless, people of faith mobilized to help them, especially the "widows and orphans in their distress." Evangelicals were a key source of support for George W. Bush's President's Emergency Plan for AIDS Relief, which since 2003 has saved millions of lives.
We seem to have lost that courageous compassion today. Yes, there may be risks in engaging with those who are "other." But try as I might, I can't find anywhere in the Bible where it says "never take risks for your faith." And ask any firefighter if danger is ever a deterrent to doing their job.
As Christ followers, responding to suffering is more than a call of duty. It's an expression of love for the One who saved us. And it's a powerful witness proving that the God we serve sees every person as precious – every life as one worth saving.
Richard Stearns is president of World Vision U.S. and author of The Hole in Our Gospel and Unfinished. Follow him at twitter.com/RichStearns.