Happy 100th Birthday, Billy Graham!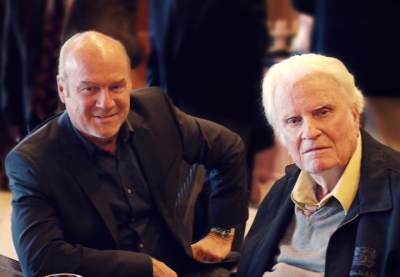 Wednesday was Billy Graham's 100th birthday.
As most of you know, Billy passed away earlier this year in February. Imagine the party he is having in heaven! I was privileged to know Billy personally here on earth, which was a dream come true on so many levels. As a child, I watched him preach and would think to myself, "That's what I want to be when I grow up!" That's exactly what Billy did—he encouraged people to love Jesus more and to chase after Him with everything they had. He was an incredible man with a passion for the gospel, and that dedication to God's word spilled over into every aspect of his life. He loved the Lord, he loved his family and he loved watching people's lives be transformed by the power of God.
As I reflect on his life, I'm reminded of a time back in the early 90s when I was just beginning my ministry. Billy asked me, of all people, to join his board of directors, and even help assist him with his sermons. Yes, I was just as shocked as you are reading this! I worked on messages that he gave at his crusades around the country, and I can't begin to describe to you the immense joy I had in and I can't begin to describe to you the immense joy I had in being a part of that process. It was truly one of the great honors of my life.
As amazing and unmatched as Billy's sermons were, the most incredible and intriguing thing about him had to be his humility. Billy didn't think much of himself, but he always thought much of God's word and he took it seriously. He didn't have time to boast or brag. He was too busy studying scripture to worry about getting credit. He was a faithful servant through and through.
Years ago, in Portland, Oregon, I had the opportunity to accompany Billy Graham to one of his crusades. On a night that would be a record attendance, I drove over with him to the event. As I recall, Billy's long-time friend T.W. Wilson was driving. I sat in front, and Billy and his son Franklin were in back.
When we arrived at the stadium and Billy made his way to the platform, I was struck by the expressions of awe on people's faces. It was as if Moses were passing through their midst.
Billy, however, seemed completely unimpressed with all the adulation. He got up and delivered a powerful message, and then, when he was done, we all piled into the car to drive back to the hotel. As a fellow preacher, I felt like I should say something nice about his message that night. So, I turned around in my seat, looked at him in the back seat, and said, "Billy, that was a great message tonight."
"It's just Gospel," he replied.
I turned back around, thinking to myself, I was just trying to offer him a compliment. Maybe I should say something more specific. I turned to the back seat again and said, "I really liked the part where you said, "He can re-sensitize your conscience." He looked at me and said, "Well, He can." I turned back around a final time and thought, okay, fine, I'm not offering him another compliment!
When our lives come to an end, it won't matter what kind of car we drove, how much money we had, or how many promotions we got at work. It won't matter what you received, but rather what you gave away. It's not how many people you knew that's most important, but how many you led to Christ. Let's all evaluate our lives today in Billy's honor. If he was here right now, he wouldn't be worried about getting birthday gifts, he'd just encourage you to share the gift of salvation through Jesus with everyone you meet.
Here's to you, Billy. Thank you for paving the way for all of us to pursue Jesus and live lives that matter. We'll carry on your mission to "PREACH CHRIST" until our very last day.
Pastor Greg Laurie is the senior pastor at Harvest Christian Fellowship in Riverside, CA. He is the author of more than 70 books, including his latest, "
Jesus Revolution
," the host of the national radio broadcast "A New Beginning" and the founder of Harvest Crusades.