Ireland: Don't Sacrifice Your Faith on the Altar of Abortion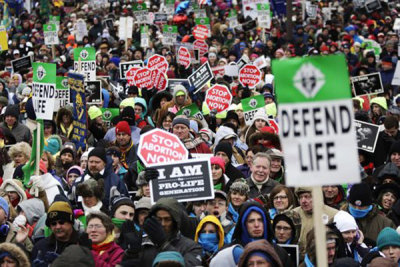 I can trace my ancestry to County Tyrone in Ireland. I still vaguely remember my great grandmothers Irish accent. Ireland holds a special place in my heart. And that is why my heart is currently breaking for that country.
On May 25 Ireland will vote on whether to repeal the 8th Amendment to their constitution which provides legal protection to children in the womb. While the Catholic church has been clear that they oppose repealing the 8th, other churches have been less so.
Among those in stunning support of the repeal is Bishop Michael Burrows from the Church of Ireland. The Christian leader was quoted in an article in The Irish Times on March 30 stating his view and his reasons for supporting the repeal. Unfortunately, his reasons were practical, but completely lacking any sound theological reasoning. Burrows said he believes the 8th is "incorrigibly flawed," but does not seem to expound on how it is flawed. He also stated, "I believe sufficiently in parliamentary democracy to hand the matter to the legislators and indeed to trust them – that is their duty and their vocation."
This statement is tragically revealing. Bishop Burrows is saying first that he trusts the government to make life and death decisions for other human beings. Throughout history, government license to arbitrate over life and death has not gone well for the most vulnerable in a country whose government wields that kind of power. Here in America, that has certainly been true for the more than 60 million children that have been killed since 1973 when Roe v. Wade legalized abortion at a federal level.
But even more troubling is Burrows' statement that "this is [the legislators'] duty and their vocation." When it comes to the most critical social issues of our day, it is the pastor's duty and the pastor's vocation to speak with Biblical clarity, and Scripture could not be clearer on the immorality of killing innocents. Bishop Burrows is abdicating his responsibility to the government instead of doing the difficult work of leading the people in the truth of God's word, even when - especially when - it is completely counter cultural.
But Bishop Burrows is not alone. Far too many pastors at home and abroad have abdicated their Biblical, God-given responsibility to speak the truth in love to the culture. May 25th is not just a referendum on abortion, but also on the Church in Ireland. They have failed to protect the most vulnerable in their culture. Of course, we Christian Americans cannot point fingers, as we have over 60 million fingers pointing back at us and demanding we accept accountability for their lives. What we can do, however, is pray that Ireland will not follow in our unfaithful footsteps.
Rev. Sean Martin serves as the National Church Outreach Director at
Human Coalition
.