'Mercy killing': We're in a fight against good and evil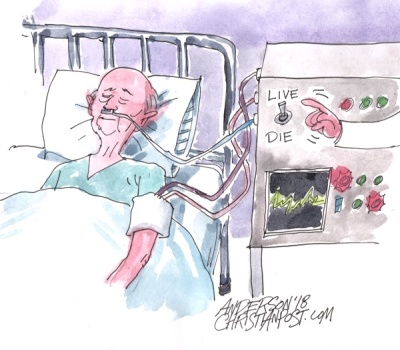 But you, keep your head in all situations, endure hardship, do the work of an evangelist, discharge all the duties of your ministry.  2 Timothy 4:5 (New International Version)
Hi, my friend. Last month, I had the opportunity to attend a panel discussion on end-of-life care entitled "Affirming Ethical Options for the Terminally Ill" hosted by The Heritage Foundation. Panelists Robert E. Moffit, PhD, Senior Fellow on Domestic Policy Studies with The Heritage Foundation, Professor Farr Curlin, MD, a medical ethicist with Duke University, and Professor G. Kevin Donovan, MD, MA, Director, Pellegrino Center for Clinical Bioethics, Georgetown University Medical Center, each shared on the spectrum of options between palliative care to hospice available to patients.
Some patients who fall within this spectrum are never presented with options but rather the means for "compassionate care," "mercy killing" or physician-assisted suicide. Per The Heritage Foundation, six states and the District of Columbia have enacted laws providing for physician-assisted suicide. "Compassionate care" is a gentler term used to camouflage the truth of what it really is: killing patients. For patients undergoing pain and suffering, physician-assisted suicide is being championed, justified and normalized by many in the medical field as "relief from suffering."
Such decisions often disproportionately impact the poor, disabled and vulnerable. It is highly encouraged that all patients get an advance directive that outlines their instructions concerning medical care. This is particularly wise when a patient is unable to communicate these instructions. It is also recommended that patient have a proxy authority who they know and trust to speak on their behalf, based on a great understanding of that patient's values, religious convictions, etc. Cultural trends are legally enabling more physicians to provide euthanasia to help their patients die. If the medical society remains silent or neutral on such issues, it becomes acceptable—and a runaway train. "Whatever is permissible in medicine becomes habitual and soon it becomes required," said G. Kevin Donovan, MD.
According to medical ethicist Farr Curlin, the traditional standards of the Hippocratic Oath—the commitment to never kill patients, to never hasten or cause a patient's death—is no longer the reigning standard in modern medical education.  The commitment to never kill gives patients the ability to entrust their care to their doctor. The practice of physician-assisted suicide erodes the patient's trust in medicine and the practice of it in which the public depends.
This and other issues weigh on my heart and prayers. As the Christian Medical & Dental Associations for Washington, D.C., we and fellow Believers nationwide have been presented an opportunity to pre-empt what the culture is promoting.  We need to secure the best and humane treatment for all until the time of a patient's natural death. Through CMDA DC, we hope to disciple and equip more of our medical students and healthcare professionals on how to take an informed and biblical stance to preserve, protect and promote life. In times like these when "uncommon sense" is more common; when words are camouflaged to justify evil and expediency; may we recognize that we are in an intentional fight against good and evil.
Despite what is the next camouflage or counterfeit that Satan unleashes, keep your head about you. Continue with a holy courage to dispense the duties of your particular ministry and calling. As Christ's representatives here on the earth, and for those of us who reside in the Greater Washington, DC area, we cannot and will not cede this influential territory to the enemy.
Good news: Earlier, many of us praised God when we learned that the Maryland Senate voted to defeat the physician-assisted suicide bill at least for this year! We continue the good fight. Grateful for many of our Christian healthcare professionals including members on our CMDA DC advisory council who have testified against this bill.  
Read more on the issue in this March 20, 2019 article written by Robert Moffit, PhD, and Abigail Slagle, "How State and Federal Lawmakers Can Promote Ethical Options for the Terminally Ill."
Stay the course. Keep your head about you in times like these. Move in holy courage and depend on our Almighty God for all that you need to do.
Blessings on your Holy Week and Resurrection Sunday! 
Nicole D. Hayes is CMDA Area director in Washington, D.C.