Pastor Greg Laurie: Do What Billy Graham Did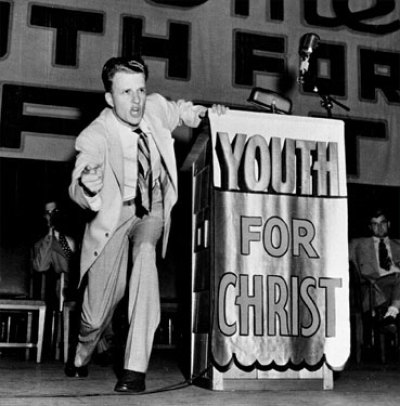 Much has been said about the great Billy Graham over past few days. Much more will be said, and rightly so. Billy was a singular figure who stands apart in so many ways from other preachers that have come and gone from the world stage. Some left their mark, others went down in flames. But none reached the level of influence or garnered as much affection as William Franklin Graham, better known as "Billy."
I had the privilege of knowing him personally for many decades, and can tell you his walk matched his talk. There were not two Billy Grahams. He was in private who he was in public. I was with Billy in every kind of imaginable situation over the years, and he remained approachable and kind to anyone who would talk to him, including those who didn't believe in God at all.
I was with him at one of his crusades years ago, and we went to lunch at a Red Lobster. A lot of people were noticing Billy sitting there, which of course was not unusual. But then it became clear; they were having an atheist's convention there in town, the same week Billy was holding a crusade. So imagine their shock when the face of Christianity was in their midst having lunch. There was no security around him, just a few friends and yet when people approached Billy, he stopped eating and treated each one with kindness and compassion. He treated each of those atheists as if they were the most important person in the entire world.
As a preacher, he was without equal. He was like a lion in the pulpit, pacing about and poking the air as he told his listeners that they needed Christ. Then when Billy would extend the invitation for people to come forward and make their public profession of faith, thousands always would, as the choir gently sang,
"Just as I am, without one plea,
But that Thy blood, was shed for me,
And that Thou bid'st come to Thee,
O Lamb of God, I come! I come!"
Tributes are pouring in from around the world from spiritual leaders, and many are talking about how much of a hero Billy was to them and how they loved what he did. Here is my response: If you really loved Billy Graham and what he did, then do the same yourself! In other words, preach that same gospel Billy preached and tell people they need to come to Jesus Christ. Billy believed in truth, the inerrancy of Scripture, and he was clear and bold when we called people to repent of theirs sins and put their faith and trust in Jesus Christ.
I once asked Billy over lunch at his weathered log home in Montreat, North Carolina, what an older Billy would say to a younger one—what truths a more seasoned preacher would emphasize to one starting out. Without missing a beat, Billy said, "I would preach more on the cross and the blood of Christ, because that's where the power is!"
He meant it.
Billy Graham's last great crusade was in Flushing Meadows, New York City. I was there, and I have to admit, I shed a few tears as the great evangelist mounted the stage for what would be his last public message. He had hoped to do one more crusade, perhaps in London, where he had such great effect in days gone by, but it was not to be. He had alredy chosen his text to preach from:
"But God forbid that I should glory, save in the cross of our Lord Jesus Christ." (Galatians 6:14)
Yes, Billy was a chaplain to presidents and the very face of evangelicals around the world, and we were glad of it. He was a wonderful representative. But when it was all said and done, Billy Graham, as he often would say, was just "a country preacher."
That was not an act. It was the truth. And he preached on the death of Christ on the cross and His blood that He shed for every person and Christ's resurrection from the dead. Billy warned of Hell and spoke glowingly of the hope of Heaven, where he now is.
So, by all means, let's offer our tributes to the great man as we prepare to lay his body in the grave. But if you really loved Billy Graham, then do what he did: preach the Gospel without apology and call people to Christ.
Billy will thank you in Heaven later, I'm sure.
I was greatly impacted by Billy's life and ministry, and all I do in evangelistic events today is directly influenced by the years I spent with him both publicly and privately.
On June 10th, we are going to AT&T stadium for a "Billy-Graham' style event called, "Harvest America."
I hope you will be a part of it.
Pastor Greg Laurie serves as the senior pastor of Harvest Christian Fellowship in Riverside, California, one of the largest churches in America; hosts the nationally syndicated radio broadcast, A New Beginning; and is the founder of Harvest Crusades, a large-scale evangelistic ministry attended by more than 7.6 million people worldwide. Laurie will host Harvest America 2018 at AT&T Stadium in Dallas, TX on June 10, 2018.
Greg Laurie is the senior pastor of Harvest Christian Fellowship, with campuses in Riverside and Irvine, California.