The Bottom Line Is That Jack Phillips Won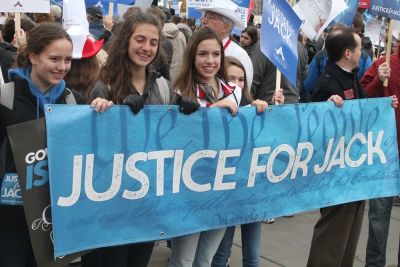 There's a lot of discussion about Monday's Supreme Court decision which pitted religious freedoms against LGBT rights. Was the ruling really that significant? Since it was so narrow in scope, should Christian conservatives really rejoice? Did the justices merely kick the can down the road? (For my own take, see here and here.)
Scores of articles have already been written on this, which means that it's easy to lose sight of the forest for the trees. The bottom line is that Jack Phillips won. His religious freedoms were upheld. There was a pushback against governmental hostility towards religion. All that is very good news.
To put this in perspective, what if the Supreme Court had ruled against Phillips? What if the justices said that the state was within its rights to punish him for declining to design a same-sex "wedding" cake? What if there was no pushback against Colorado's overt and explicit hostility towards Phillip's Christian beliefs? What then?
What would headlines have looked like on Monday from the Alliance Defending Freedom, which represented Phillips? Or from the FRC, or from a host of other conservative Christian organizations? What would people like me have written, and what would you, the readers, have been thinking?
We would have been outraged. We would have taken this as a slap in our faces and a mockery of our faith. We would have shouted, "What about the First Amendment?!" We would have been up in arms.
And look at the headlines on liberal websites, or, more specifically, LGBT websites. How was this decision reported?
The Advocate, a flagship LGBT publication ran this headline: "Homophobes Gorsuch, Thomas Wanted the Cake Shop Decision to Go Further."
And the article, by Trudy Ring, stated, "The high court's decision, issued today, was tailored narrowly, applying only to this case, but it sets the scene for more court clashes over the right to turn away LGBT customers and, whether or not the high court intended, gives some ammunition to those who would argue for this right. And some conservative justices thought the ruling did not go far enough."
The LGBTQ Nation website reported that, "Today's ruling chips away at one of America's most basic values for the last 50 years – the freedom to expect that a business will serve all customers without discrimination."
The article also cited Democratic leaders who were unhappy with the ruling.
An article on Queerty.com stated bluntly, "The Supreme Court has ruled 7-2 in favor of Jack Phillips, the antigay baker from Colorado who refused to make a wedding cake for a same-sex couple, and American bigots couldn't be happier."
Again I ask: How would we have reacted had the shoe been on the other foot? What would be writing and saying today had the ruling gone against Jack?
Contrast the Advocate headline, which vilified Justices Gorsuch and Thomas, with this headline on the Stream (a conservative Christian website for which I write regularly): "We Must Clone Clarence Thomas: The Lesson of SCOTUS' Wedding Cake Decision."
According to John Zmirak, the author of the Stream article, "The hatred today's left feels toward orthodox Christianity is fanatical. Remember how Inspector Javert, in Les Misérables, sought pretext after pretext for imprisoning Jean Valjean? So the left will keep hunting Christians. Justice Kennedy has just told them the opening and closing days for hunting season."
And Zmirak notes that Thomas was acutely aware of these dangers, writing in his opinion, "In Obergefell, I warned that the Court's decision would 'inevitabl[y] ... come into conflict' with religious liberty, 'as individuals .. are confronted with demands to participate in and endorse civil marriages between same-sex couples.' ... This case proves that the conflict has already emerged. Because the Court's decision vindicates Phillips' right to free exercise, it seems that religious liberty has lived to fight another day. But, in future cases, the freedom of speech could be essential to preventing Obergefell from being used to 'stamp out every vestige of dissent' and 'vilify Americans who are unwilling to assent to the new orthodoxy.' If that freedom is to maintain its vitality, reasoning like the Colorado Court of Appeals' must be rejected."
I couldn't have said it better.
The bad news is that the ruling wasn't broader and that all the justices didn't agree on the very dangers that Thomas and Gorsuch (and others in the past) warned about. How could these dangers not be seen? Even a nearsighted man without glasses could see what was coming – with any insight at all.
But the good news is that, in the end, this was about Jack Phillips, who took a stand where many others would have caved in, enduring 5 years of grueling litigation, with his whole life turned upside down. And he took that stand with grace and courage. Because he won, we won.
For that, I'm very thankful.