A silent tragedy: The elimination of Aramean Christians from the Middle East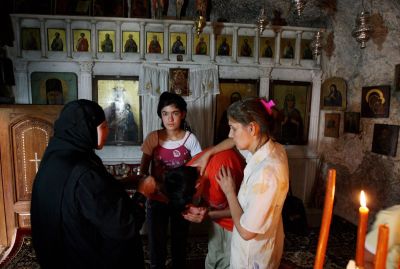 Israel recognized Aramaic-Syriac Christians as an official identity in September 2014. To this day, no Arab or Muslim state has ever done so.
Arameans are a distinct religious and ethnic group to which I belong, and they are the indigenous people of the ancient Fertile Crescent, the Land of Aram as it was mentioned in the Bible.
This land had one of the greatest civilizations throughout the centuries. Aramaic was the language spoken by Jesus centuries before Arabic dominated the Middle East.
Arameans living in the region call themselves messianic — in Aramaic "Mshihoye (Mecshiha)", and in Arabic "Masihi," which is derived from the world Messiah. Today, all of them pray in Aramaic Syriac, the sacred language of their Maronite and other Syriac churches. Many speak it daily, but they were forced to switch to Arabic since all their lands were occupied by Arab forces in the 7th-century Islamic conquest.
Our community lives on a continuous stage of persecution from different occupiers like the Ottoman Turks, and modern Arab and Islamic regimes, including the Palestinian Authority.
In Israel, there are almost 180,000 Christians, making up 2% of the country. Aramaic Christians comprise 15,000 of them and Syriac Aramaic Maronites are the majority among them. They live mainly in the north, in the Galilee region, Haifa, Gush Halav, and in the Kfar Baram community.
The UN definition of genocide states 3 phases:
1. Physical Genocide: the annihilation of people in their homelands.
2. Cultural-linguistic annihilation.
3. Combination of both physical and cultural phases.
Aramaic Christianity has suffered and is still suffering in the Middle East from genocide on all fronts.
Aramaic Syriac Christian Maronites in Lebanon were massacred in 1860, and from 1915-1918 suffered from organized famine policy (called "Kafno" in Aramaic) by the Ottoman Turks. At the same time, Aramean Syriac Christian Orthodox and Armenians were facing genocide in northern Syria and in the south of Turkey. This happened in the early Islamic period and has continued until today in different locations and phases.
The massacres happened during the 70s and 80s by Palestinian and other Arab Islamic Jihadists fighting Christians in their Lebanese land. So far, 61 Christian towns in Lebanon have been uprooted. Israel was the only force to prevent them from being annihilated and sacrificed. Many have hoped to establish peace and security between the two countries at the end of the war. Unfortunately, this longtime vision between the two nations has been rejected by the Muslim factions in the region.
The oppressors never admitted their evil deeds and the oppressed Aramaic people feared exposing the evil and demanding recognition from Arab Islamic autocratic regimes — we never fear the same thing under democratic Israel.
Universities, governments, and the international community in the Western world that represent equality, human rights and democratic values know the truth but are not teaching this history. We at ICAA-Israeli Christian Aramaic NGO are leading the efforts in Israel to research and educate Israelis and the nations about our Aramean people and Aramaic language. We are hosting thousands of Americans and European students in cooperation with Philos Project and Passages. This is the least we can do with our modest budget.  
Germany, as a western nation, has admitted its wrongs against the Jewish people in the Holocaust and to this day are compensating the poor Jewish survivors and their families.
They support the security of the Jewish democratic state of Israel as the only state in this world where persecuted Jews can find refuge and protection in their historic homeland.
Lebanon was created based on demand of Aramaic Christian Maronite people from the French Mandate, aiming to build a nation for their own people where other persecuted Christians in the Middle East can find refuge in. Today, Lebanon has been kidnaped by extremist Islamic Shiite Iranian organizations acting as an Iranian proxy, terrorizing all Lebanese with their illegal arms.
Putting their hands on Christian lands in Mt. Lebanon, threatening Christians not to align with Aramaic revival movements, bankrupting the state so that Christians will migrate to other countries and forcing millions of Christian Maronites to never return back to their lands.
Any Lebanese Christian who dares to work on reviving their forefathers (and Jesus') Aramaic language becomes a suspect in their eyes and is accused of being a collaborator with Israel.
In Hezbollah-controlled media in 2018, I and Christians from Arab countries were accused of being collaborators only because we were meeting together at a New York conference in 2017 to make efforts to preserve and save the Aramaic language.

One must wonder, when did the language of Jesus become a threat to people?
Might Arab and Islamic countries finally have to admit their wrongdoing against Aramaic Semitic Christianity? Would they help them, just as Germany has regarding Israel and its Holocaust survivors?
There are good signs that the United Arab Emirates and Saudi Arabia are becoming more liberal on this matter, especially when it comes to understanding the importance of Aramaic Christian Maronites regarding the long-term stability of Lebanon.
Meanwhile, native Christians in general and Christian Aramaic communities enjoy being citizens of Israel. They enjoy freedom of movement, and other democratic values and rights like other communities. If you ask the 180,000 native Christians in Israel if they prefer to be controlled by Israel or any Arab regime, they will answer Israel. This may be a surprising answer for many, but not for us as native people of the land.
Of course, the Christian minority in Israel still lacks many of its needs. We need more integration within Israel, and we continue to demand a Christian curriculum in the ministry of education for our Church schools just like the Druze, Muslims, and Jews have for their schools. It is a big mistake to keep Christian schools under the Islamic Arab curriculum. Without this, Christians like us are disconnected from our origins, faith, history, and the Aramaic language that was a vital part of our forefather's identity.
Without this, we are prevented, as Christian Arameans, from playing our positive role in the region as agents of hope and peace in the Jewish-Arab conflict, and it ruins our efforts to revive our Aramaic language and identity as well our existence as a people of the land.
Shadi Khalloul is founder of the Israeli Christian Aramaic NGO. Prior to graduating from University of Nevada, Las Vegas, he served as a lieutenant in the IDF paratrooper division and now he is Major. Res. in the IDF. He is also an entrepreneur, a community leader and a candidate for Israel's Knesset.