Tony Campolo: Red Letter Christian Revival Needed More Prayer, Spiritual Edification, Gospel Sharing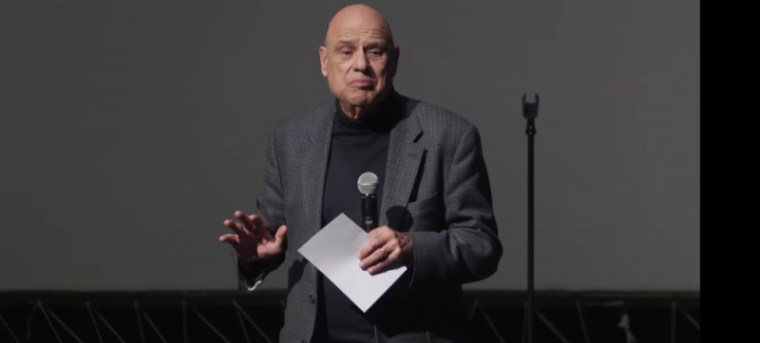 On April 6-7, 2018, I attended and reported on Red Letter Christians' "Lynchburg Revival," which was sparked months earlier by Shane Claiborne's public criticism of Liberty University President Jerry Falwell Jr.'s support of the Trump Administration. You can read my full report titled, "Jesus, Justice, and Political Partisanship" here.
To give a little background, the opening prayer, for example, included more identity politics than genuine petitions to the Almighty:
Dear God, we have been seduced by the myth of redemptive violence. We have failed to resist the unholy and preemptive wars of choice and have even fought for the death penalty. As the youth of America are raising their voices against gun violence, many Christians remain silent, many even working to sustain and further a culture of guns and violence. From an unrestrained militarism, Lord save us.
And:
Dear God, our nation was founded on the death of native lands including Monacan land upon which Lynchburg was founded and the systemic enslavement and stolen labor of African peoples. Having not fully acknowledged this history, we are unable to see how race and whiteness function as an exclusionary and protective privilege. Thus, we continue to marginalize and deny full access and rights to many, including immigrants, LGBTQ peoples, native peoples, African Americans, Latinx people, and too many to justify acknowledgment in this prayer. From our persistent racism, Lord, save us.
Most upsetting, was a mainstage speaker who told service men and women that he was "not grateful for your service" and stated, "fallen soldiers are victims, not heroes." Instead of offering tangible national security measures, the speakers suggested we "fight evil with poetry." This speaker received a standing ovation. As the wife of a Navy veteran and sitting in attendance beside a friend and former Marine, I remained seated.
Tony Campolo took notice of my report and concerns. (Campolo provides leadership for Red Letter Christians and the broader progressive Christian movement and was also a keynote speaker at the "Lynchburg Revival" gathering.)
Over a respectful e-mail exchange, Campolo acknowledged my concerns and shared his own reservations and honest reflections about some of the political sentiments expressed at Red Letter Christians' event. Campolo's note is posted here with his permission.
Dear Chelsen,

I couldn't agree with you more about the negative spin that was given to people in the military at the Red Letter Christians revival. I myself am a non-violent resister, but I always say, before I declare myself as such, that I am ambivalent and troubled. That is because I know that the freedom to speak as I do and to believe as I do has been made possible by brave men and women who have laid down their lives in struggling to protect my right of speech. I wouldn't be able to say the things that I do, or be the person that I am here, in America, if it has not been for men and women in the military. You can see why I am ambivalent, because with people like yourself, who have family members in the military, we have to be very sensitive, and I do not think that several of the speakers at the Red Letter Christians revival were very respectful.

The one place where I become critical of militarism is in government spending, and on a matter like that you and I could enter into a disagreement with great respect for each other. I contend that there hasto be government cuts in spending. In this respect, I agree with those in the tea-party. We can't go on year after year, going deeper and deeper in debt. Donald Trump is going to put the country into another couple of trillion dollars down in the red column. It's bad enough that we have had a string of heavy spenders among the democrats. It's interesting, however, that the last president to end up with a budget surplus was a democrat, Bill Clinton. Thus, I am concerned, as most fiscal conservatives are, with the out of control spending that is marking our government. The differences between me and Donald Trump (as though my differences really matter) is that I would like to see cuts in the military spending rather than the social services to the poor and the needy. What I do not want to see happen is that the people in the armed forces are in any way denigrated or talked about in ugly terms. There was some of that at this revival.

I was dismayed as you were that there was not much room for spiritual edification. We needed more prayer, and we needed more opportunity for people to make commitments to Christ. I had an opportunity for between 5 minutes at the end of Saturday night, and I did ask people to commit themselves to Christ. But that is a far cry from what should really take place at a revival, so I am in much agreement with you in much of your criticism.

The place where we would disagree, is that I think there is a need for a movement that articulates to Christianity that does not espouse the political ideology of the right wing of the Republican party. On the other hand, I think you would agree that we do not need a Christianity that articulates the ideology of the left wing of the Democratic Party. We need a biblical theology that puts Christ above both parties, and from the perspective of the red letters of the Bible, make value judgments about what is good and bad in each of them.

I hope we can be friends in spite of differences, and I want you to know that in so many things that I am in harmony with you.

Yours in Christ,

Tony Campolo
Originally posted at Juicy Ecumenism. 
Chelsen Vicari serves as the Evangelical Program Director for the Institute on Religion and Democracy. She earned her Masters of Arts in Government from Regent University and frequently contributes to conservative outlets. Follow her on twitter @ChelsenVicari.