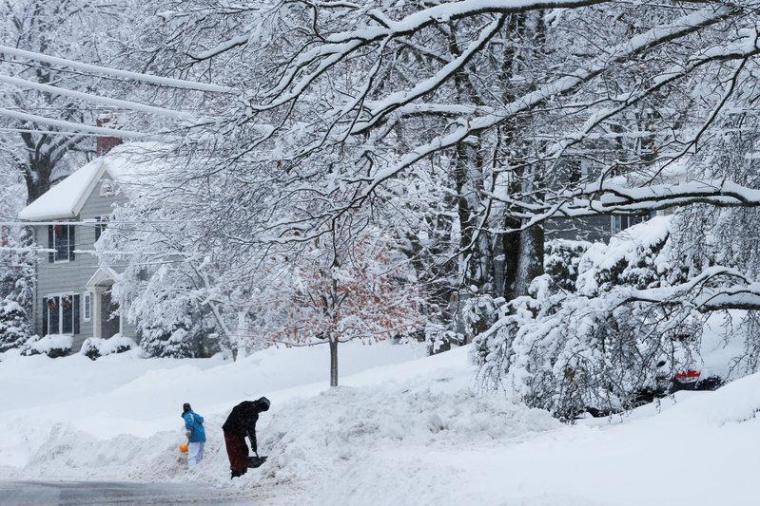 I am familiar with the words "bomb" and "cyclone," but I have never seen them together before today. CNN explains: "A bomb cyclone happens when a cyclone, which is a low-pressure rotating storm system, experiences a dramatic drop in atmospheric pressure over a short period of time."
This process is also known as "bombogenesis." Bomb cyclones draw colder air from the North, which blasts areas in the northern hemisphere with icy temperatures.
Millions of Americans are in peril not only of a bomb cyclone but also of "thundersnow," which is thunder and lightning during a snowstorm. This phenomenon "combines the hazards of a thunderstorm with the decreased visibility and ground accumulation of a snowstorm."
"Hoarfrost" is the heavy frost that lines plants, trees, and other things when the air is below freezing and the atmosphere is moist. And a "polar vortex" is an area of low pressure circling the North and South Poles. The vortex around the North Pole is strengthening as we speak, blowing more Arctic air into our atmosphere.
The result of all this is Winter Storm Grayson, which is predicted to bring as much as twenty-four inches of snow to Maine and New Hampshire. Blizzard conditions are expected in several other New England states. Philadelphia is under a "snow emergency" this morning; New York City public schools are closed for the day.
Much of the coastal South is within Grayson's path as well. Georgia and the eastern portion of the Carolinas could see six inches of snow. The northern parts of Florida will also receive an "icy mix."
Damaging wind gusts, ice, and blizzard conditions will make travel in much of New England and the Atlantic Coast nearly impossible. Power outages have spread to some 77,000 homes as of today and can be life-threatening in such frigid temperatures. Flooding is expected along the Massachusetts coast.
What spiritual principles are relevant to this historic weather event?
Two lessons from the storm.
Henri Nouwen was one of the most perceptive theologians of the 20th century. A Dutch Catholic priest, he taught at Notre Dame, Yale, and Harvard and lived with Trappist monks in upstate New York and with the poor in Peru. He spent the last decade of his life ministering to people with developmental disabilities.
Father Nouwen corresponded with readers in English, Dutch, German, French and Spanish. He wrote thirty-nine books on the spiritual life, many of which have been very significant for me. Consider two of his insights that are especially relevant today.
First: "Life is precious. Not because it is unchangeable, like a diamond, but because it is vulnerable, like a little bird. To love life means to love its vulnerability, asking for care, attention, guidance, and support. Life and death are connected by vulnerability. The newborn child and the dying elder both remind us of the preciousness of our lives. Let's not forget the preciousness and vulnerability of life during the times we are powerful, successful, and popular."
Winter Storm Grayson reminds us of our innate vulnerability. We enjoy greater protections against the weather than any society in human history, but we can still develop frostbite in five minutes and freeze to death in less than an hour. Extreme weather shows us that we are creatures in need of a Creator.
Second: "Joy and sorrow are never separated. When our hearts rejoice at a spectacular view, we may miss our friends who cannot see it, and when we are overwhelmed with grief, we may discover what true friendship is all about. Joy is hidden in sorrow and sorrow in joy. If we try to avoid sorrow at all costs, we may never taste joy, and if we are suspicious of ecstasy, agony can never reach us either. Joy and sorrow are the parents of our spiritual growth."
Good always comes with bad. The northern climate of New England produces a beautiful spring but a dangerous winter. Mild winters in the South lead to extreme summers.
St. Augustine popularized the definition of evil as the "shadow side" of the good. In his view, evil exists as a deprivation or perversion of something good. God creates; Satan can only corrupt. But there can be no good without its shadow.
Wherever you are, God is
Life is precious, but sorrow is inevitable. In light of these twin facts, how should we pray today?
 Because you are precious to him (Zephaniah 3:17), you can pray for his protection in the storms of life, knowing that no one can take you out of your Father's hand (John 10:29).
If you're not in the path of this horrific storm, please pray urgently for those who are. Pray for emergency personnel who must risk their lives to help others. Pray for the homeless, the elderly, and others who are especially in danger. Pray for ministers to share God's word and love with compassion.
And know that wherever you are, God is.
Orginally posted at the Denison Forum.
Adapted from Dr. Jim Denison's daily cultural commentary at
www.denisonforum.org
. Jim Denison, Ph.D., is a cultural apologist, building a bridge between faith and culture by engaging contemporary issues with biblical truth. He founded the Denison Forum on Truth and Culture in February 2009 and is the author of seven books, including "Radical Islam: What You Need to Know." For more information on the Denison Forum, visit
www.denisonforum.org
. To connect with Dr. Denison in social media, visit
www.twitter.com/jimdenison
or
www.facebook.com/denisonforum
. Original source:
www.denisonforum.org
.