Adolph Hitler Was Never a Christian and Hated Christianity
Adolph Hitler's early Christian references were political pandering, a ruse to bring the church into line so that it wouldn't interfere with his scheme to take over the world.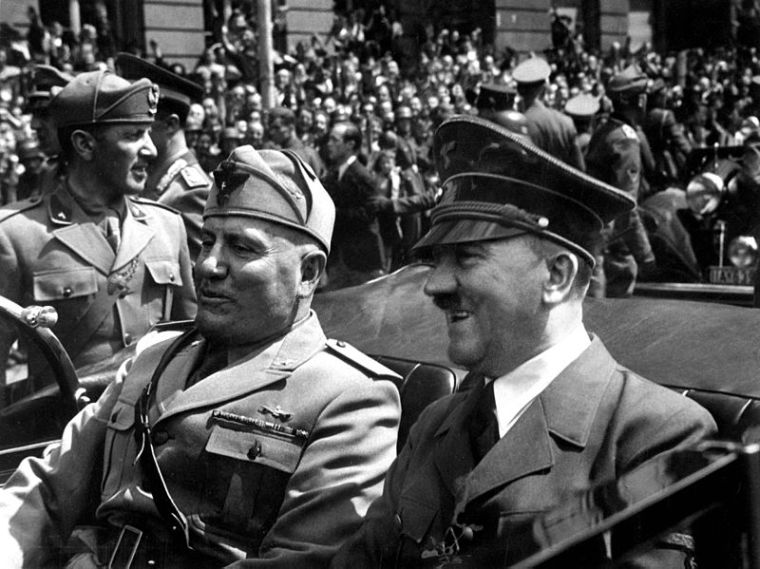 Christianity gets a bad rap. Not only do many blame it for the Inquisitions and the Crusades, they claim that Adolph Hitler was a devout Christian who committed the horrors of the Holocaust and the Third Reich to advance Christianity. They even argue that Christianity was at the very core of Nazism. They claim this reflects the evil nature of Christianity itself.
You'll find references to Hitler's supposed love for Christianity, especially in his screed Mein Kampf, which he wrote in the 1920s while in prison, and in his early days before he attained complete power in 1933. So there you go the atheist will say.
But to believe Hitler was a Christian is like believing the four guys from the music group the Village People were really a policeman, a cowboy, a sailor and an Indian chief.
You see, it just ain't so.
Like Mussolini before him, Hitler dripped with contempt for Christianity. He in fact dedicated himself to only one overall mission: destroy God and His 10 Commandments. His seemingly pro-Christian fervor was just a ruse: he orchestrated it solely in the hopes of getting Christians to back him, or at least not to get in the way.
It turns out that dictators manipulate, lie and deceive. Who knew? And Hitler had lied and deceived over and over again: he lied to the rest of the world when he said he wanted only peace. Then he lied that he wouldn't pursue any territory after acquiring Czechoslovakia. He lied to the Russians when he signed a treaty that he wouldn't go to war with them. He lied and deceived the world about his plan to annihilate the Jews and all other supposed "undesirables."
His specific lies were extensive: "We have no territorial demands to make in Europe", "I do not desire anything further than that this German nation shall take its place and grow into the unity and co-operation of the European community" (March 1936); "We want nothing from France—nothing at all" (September 1938); "Germany does not conduct a war against small nations" (April 1940).
Those who claim Hitler was a devout Christian seem to understand that he was a ruthless, psychopathic liar who would say anything to accomplish his murderous scheme to wipe out all non-Aryan people from Europe and beyond. But his professed deep faith in Christianity?
That you can apparently take to the bank.
We know better now. As Historian Paul Johnson observed, Hitler hated Christianity with a passion. After assuming power in 1933, Hitler told Hermann Rauschning that he intended "to stamp out Christianity root and branch."
Hitler himself bemoaned that Germany was stuck with Christianity, which he considered "the wrong religion," and "meek and flabby." He preferred the Japanese fatherland approach, or even "the Mohammedan religion."
And then, in 1933, away from the public, Hitler explains his plans to destroy Christianity: "It is through the peasantry that we shall really be able to destroy Christianity, because there is in them a true religion rooted in nature and blood." His contempt for Christianity grows more with time. By 1940, he states, "The religions are all alike, no matter what they call themselves. They have no future—certainly none for the Germans. Fascism, if it likes, may come to terms with the Church. So shall I. Why not? That will not prevent me from tearing up Christianity root and branch, and annihilating it in Germany." More revealing yet: "We will wash off the Christian veneer and bring out a religion peculiar to our race."
Yehuda Bauer, professor of Holocaust Studies at Hebrew University in Jerusalem, describes the real "god" of Hitler and the Nazis: "They wanted to go back to a pagan world, beautiful, naturalistic, where natural hierarchies based on the supremacy of the strong would be established, because strong equaled good, powerful equaled civilized." In other words, not Christian.
Hitler's early Christian references were political pandering, a ruse to bring the church into line so that it wouldn't interfere with his scheme. "He knew he dare not simply eradicate it: that would not have been possible with such an international organisation, and he would have lost many Christian supporters had he tried to."
In other words, he knew which fights he could win (at least until 1941) and only fought those.
For Hitler, Christianity was his enemy. As Hitler wrote: "Pure Christianity... leads simply to the annihilation of mankind. It is merely wholehearted Bolshevism, under a tinsel of metaphysics." Like Stalin, Hitler believed history was on his side: "Do you really believe the masses will ever be Christian again? Nonsense. Never again. The tale is finished . . . but we can hasten matters. The parsons will be made to dig their own graves." (Emphasis added.)
Still not convinced? It is virtually impossible to find a speech, especially in his later years, whereby he spoke of love for God or Christ. By contrast, he demanded the world to pledge allegiance to him, the Fuhrer —not to God, Jesus or any other higher power.
The ultimate violation of the commandments is where one does evil and does so in the name of God. Why is this particular violation so contemptible? Because it commits evil under the guise of faith and goodness. It gives God a bad name.
This is the evil Hitler mastered so well. Yet there are those who take his few early references to Christianity seriously. But just because someone invokes God or Jesus doesn't mean he believes in God or Jesus. It's what any smart con man would tell you do—know your audience, exploit them. Kill them later.
Hitler appealed to Christianity, but only as a tool to aggrandize his power. In this way, he viewed Christianity much like he viewed Stalin—a necessary ally for the moment, whom he would turn against when he invaded Russia in 1942.
Hitler was no Christian and never acted as a Christian. Adolf Hitler was godless. To say otherwise is a libel upon Christianity.
Barak Lurie is a former atheist who welcomed God back into his life after turning to logic, science, and probabilities. He is a managing partner of the firm Lurie & Seltzer in Los Angeles, California and host of The Barak Lurie Show, a big-picture look at politics, religion, and law in the news Sundaymornings on AM870, KRLA. Lurie advocates the importance of God in society, using reason, history, and science to expose atheists' flawed philosophies.
Listen to Barak Lurie's radio show at https://soundcloud.com/barak-lurie and connect with him on Facebook. Advance copies are available on Amazon.