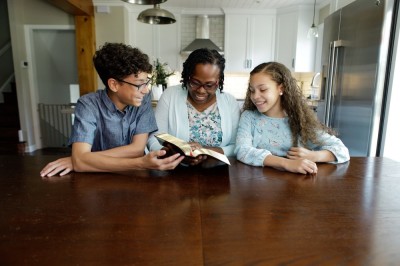 As a working mom of one with another baby on the way, Women's History Month has resonated differently for me this year. This annual celebration comprises the beauty and the weight of womanhood, the sacrifices of women who paved the way before us and the responsibility we carry today for future generations. It includes my grandmother who left university to rivet planes during WWII and my mother who left her career as an RN to raise me. It includes the women at my church growing up who, experiencing unimaginable difficulty after difficulty, raised their hands in honest praise. And it includes all of us in 2021—still holding the gift of extra family time in balance against distance, job loss, and grief. As headlines point to women being in crisis, I think we're all asking: where's our relief?
Turns out, part of the answer may be sitting on our shelves. Research suggests the Bible, on the whole, makes people "better." People who are Scripture engaged* report better mental and physical and financial health, more close social relationships, greater happiness, and a fuller sense of meaning and hope. On a literary level, it's also true that the Bible features the entire range of human emotion, including joy and happiness but also grief and sorrow. As much as it may give us reason to celebrate, it also gives us permission to lament and to acknowledge how awful many of are feeling right now, which is in itself a piece of relief.  
Of course, in order to benefit from the Bible, one has to read it, and data released during the pandemic showed indications to the contrary. The 2020 edition of American Bible Society's (ABS) State of the Bible: U.S. report, which polls a representative sample of Americans to study the nation's views on the Bible, showed that Scripture engagement* was down. This was true across the board, but it was particularly true among women who — for the past decade — had ranked higher than men when it came to their views on and use of the Bible. Scripture engagement was down 3.3% for women with no children at home, and a dramatic 7.6% for women with children at home. (For context, it decreased 0.6% for men with children at home.) In a time when women were separated from their church, their community, and their support structures, they were also distant from the comfort they might have found in Scripture.
However, as experience teaches us, women are resilient and resourceful. Our first look at State of the Bible: U.S. data from January 2021 shows that women's Scripture engagement* has rebounded — now increasing above pre-pandemic levels. The full report will be released this May, but early analysis is encouraging, showing that American women are, on average, relying on the Bible even more now than they did in January 2020. In short: it looks like more and more women are looking to Scripture to navigate this "new normal." Assuming trends remain the same as they have for the last decade, we can bet that as women turn to Scripture, they'll find renewed hope, peace, and security — even in the midst of trauma and uncertainty.
Scripture for Survival Mode
I think it's important to consider what turning to the Bible looks like in the middle of a pandemic, practically speaking. There aren't many women off on a blissful retreat, soaking in sunshine and Scripture; instead, most meet with God in the middle of everyday busyness. I'm part of a working moms Slack channel at ABS, and this past year, colleagues have shared about the frustrations and the joys of raising children while trying to do good work and make wise decisions during this pandemic. A few of these women in the trenches volunteered their thoughts on how they've tried to stay connected to the Bible — even and especially on the days when it didn't feel like they had either the time or the energy.
Nena Podbury is on ABS's prayer team. At work, she mobilizes prayer for Bible ministry, networking with 34,000 global prayer partners. At home, she does her best to raise two kids and keep up with myriad other responsibilities. She says, "In the early days of the pandemic, our family was doing a one-year Bible reading plan. We normally sit at the dinner table, and I read the Bible while the kids eat dinner. We discuss the reading and then pray. As we got further into the pandemic and I became a homeschool teacher for my 6-year daughter all while still working, I became too tired to continue this routine.
"I was in survival mode. Getting dinner on the table was hard enough, let alone having the energy to read the Bible. Then one morning in May, I came downstairs and saw my 9-year son sitting on the couch. He was distraught. Everything was hitting him, and he couldn't take it anymore. He began to cry. I did what any mom would do: I held him and cried with him. That's when I knew I needed to get my family back in the Word of God. Seeing my family struggle with anxiety, sadness and fear, made me do something. I picked up the Bible and we began to study it again. But reading God's Word through the lens of the pandemic was much more meaningful. We truly drew strength and comfort from God's Word." 
As we continue navigating the effects of COVID-19, ABS mom Sarah Friend points out that using study tools is a good way to keep up with Bible reading when physical reminders may be absent. There are millions of digital commentaries and guides that can help us connect to Scripture. Friend works in donor care at ABS and particularly values her time as she has four kids including one newborn. She mentioned she "started to listen to Scripture through the 'Bible app' (YouVersion), and though it's not the same as sitting and reading the words, it's still food for my soul that met the demands of my daily reality."
Just as many moms say the Bible brings them peace, they also highlight how it helps their families learn to lament together, process pain, and walk in hope. Rebecca Taguma is an ABS mom with elementary-aged children who works on our trauma healing team bringing Bible-based mental health resources to U.S. churches. She says, "One of the gifts of altered schedules, virtual learning, and cancelled commutes has been more time together. We've added Bible verse learning to our weekly routine — pick a verse, make a picture about it or a song, write it down, hang it up in the hallway, and memorize it — which has given my 9- and 12-year-olds a tool to combat anxiety. We've also used two free ABS Trauma Healing Institute resources,Peace Be Still andUnstuck, as a family."
Women, we have heavy responsibilities, but we don't have to carry them alone, nor in fear or panic. Whether you're a long-time Bible enthusiast or a first-time reader, now is the right time to turn to the Bible, to listen to it, and to soak in it. One day we'll be the women that Women's History Month is all about; let's be remembered as gracious, strong, and infinitely hopeful.
*The Scripture Engagement Scale measures Bible reading frequency and the Bible's influence on people's behaviors and their relationships with God and others.
Laura Chan is the Senior Manager of Advocacy & Engagement at American Bible Society, working to elevate the legacy and impact of this 204-year-old Christian nonprofit as well as the relevancy of the Bible.