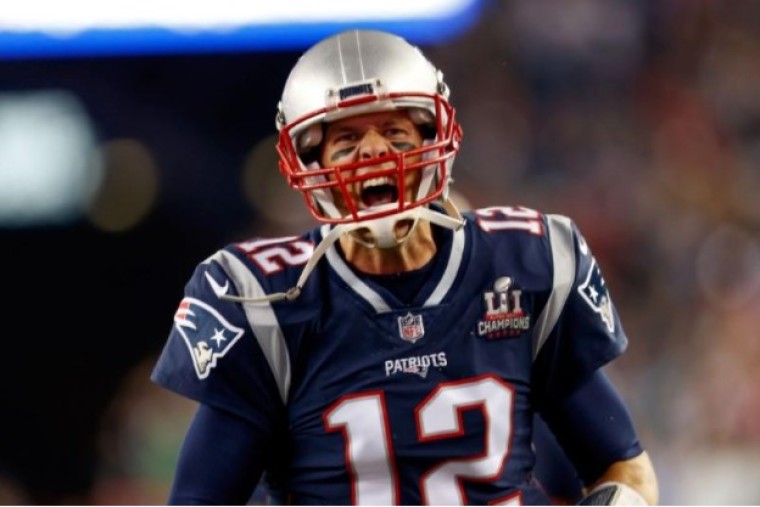 New England Patriots quarterback Tom Brady is getting heat after a kiss with an individual other than his wife.
Yes, Brady, the celebrated quarterback, is being taken to the cleaners after two kisses on the lips with his...11-year-old son.
During a docudrama titled "Tom vs. Time", Brady is receiving a massage when son Jack enters the room asking his dad if he can check his fantasy football standings.
According to CBS NewYork, Tom asks his son, "What do I get?" Jack kisses dad on the lips to which Tom says "that was like a peck." Son Jack returns and gives dad a longer kiss. (I timed it. No more than two seconds.)
This is what we've come to; a display of affection between a father and his 11-year-old is considered "disturbing" as one New Yorker said. Similar comments followed.
The author of Why Parents Disagree a counselor, tells of a father who asked "Is it all right if I hug and kiss my two and a half year old son goodnight? I'm afraid it will turn him into a homosexual." Can you believe that?
The opposite, less affection between dad and son, is more likely to create homosexual attractions.
In this politically correct age, we are finding parents being shamed into acting in ways that are counter-intuitive.
We believe that a son is LESS (not more) likely to develop same-sex attractions if he and his dad express affection. Part of this is due to the "masculine" image that is projected in American culturIn truth, the affection between dad and son, particularly when the son is young, serves to help deter the development of same-sex attractions. Ditto mom and daughter.
I believe one of the more uncomfortable passages of Scripture to many people is the conspicuous display of affection between Jesus and John the Apostle (John is repeatedly called "the Beloved Apostle.") At the last supper while Jesus and the twelve apostles are reclined around the table, John leans his head back on Jesus' chest to ask a question.
As one who struggled with same-sex attractions, I've often said that when I see Jesus I will not extend my hand in business fashion and say "pleased to meet you." I will throw my arms around Him and exclaim as did Thomas "My Lord and my God."
To 11-year old Jack Brady, I say "touché."
And to his dad Tom, I say "touchdown."
Originally posted at Cross Ministry.
Tim Wilkins earned his undergraduate degree from Gardner Webb University and his Masters of Divinity from Southwestern Seminary. He has served as a music and preaching evangelist, pastor of two churches, and is the founder/director of Cross Ministry, Inc. He speaks on university campuses, to missions organizations, and leadership conferences.