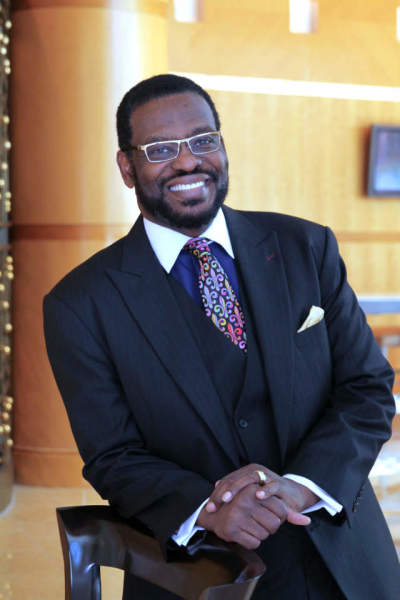 Earlier this month I was excited about an opportunity to speak to the President of the United States on issues I care deeply about.
As one who has dedicated the majority of my adult life to advocating for righteousness and justice for all people, this was not a political or party meeting — it was a divine appointment. I would have a chance to once again represent the voiceless to the highest office in our land. I would be able to appeal on behalf of the incarcerated and their families. And I felt we were nearing the 1-yard line.
Some have misunderstood our reason for being there, but as a student of Martin Luther King Jr., I remembered how he walked in the biblical tradition of a prophet, but he could also passionately speak to our secular leaders in the public square about the rights he was demanding for our community, the rights already granted to us by our Constitution.
This was not our first meeting. There had been a 15-month preparation that we and the White House had invested in making life better for people living in our urban centers and for the huge number of previously incarcerated people who want to fully re-enter society. I entered this meeting with an optimism that good might be right around the corner, even if at the hands of an unorthodox president.
This optimism is also shared by many who have expressed support for our willingness to contend for change. My hope is that many more will join us in these efforts to push criminal justice reform over the finish line.
These meetings have been far more than a photo op. And we in fact were not just "played by the President" as some suppose. The President, despite his complicated relationship with our nation's minority communities, has in fact achieved great success in advancing issues important to them.
Take, for example, these accomplishments:
President Trump has commitments from major corporations for 4 million additional jobs in urban areas. These jobs will be filled within his first term.
These jobs will include opportunities for citizens returning to the workforce after incarceration.
The tax reform legislation that was put into place this year includes "opportunity zones" which provide substantial incentives to communities that do business in our urban centers.
The number of closed-door meetings with black and Hispanic clergy that I have been privy to is exceptional, and in this regard, President Trump is exceeding his predecessors. He genuinely wants leading pastors to help him fine-tune, correct and adjust his policies.
His policies have contributed to the lowest unemployment rate for blacks and Hispanics since these stats have been counted.
And, finally, there's the subject of our meeting that fateful day. This administration has championed re-entry legislation called "FIRST STEP Act," which would reduce recidivism. And if anyone thinks we are just "Uncle Tomming," just remember this all began when the President changed his position on sentencing reform after meeting with the pastors on Aug 1.
All of these accomplishments are real and they are significant.
Now, we need to dispense with the friendly fire and finish the task of criminal justice reform, especially since the President now sees the importance of changing the framework of sentencing, which prior to our meeting he didn't.
The president's change of heart will have four direct consequences:
Mandatory sentencing guidelines can be lowered for people with prior nonviolent drug felonies.
Judges would have the freedom to not increase sentences because of simultaneous charges.
These changes would apply the Fair Sentencing Act of 2010's measures which reduced the sentencing disparity between upscale cocaine users and urban crack offenders.
This law would increase the number of exceptions to the mandatory minimum sentencing framework.
My talks with the administration have yielded tangible, measurable results. Nonetheless, these results are just a beginning. The bigger question for me is where do we go from here? There are still a lot of people hurting in America, and it's time for the critics to drop their logos and their egos and join us in working with this administration so we can work on healing some of that hurt. That's the task ahead of us, and we will not stop until we're over the finish line.
Rev. Harry R. Jackson Jr. is senior pastor of Hope Christian Church in the Washington D.C. area. He is the presiding bishop of the International Communion of Evangelical Churches, the founder of the High Impact Leadership Coalition and a chief convener of The Reconciled Church, a movement to heal racial division in America. Follow him
@BishopHarry
.