On Paige Patterson and the Southern Baptist's 'Boy's Club' Mentality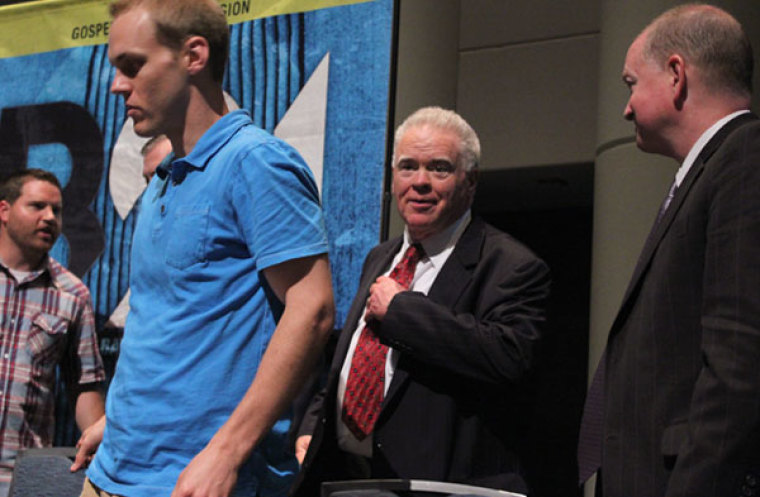 The Baptist Press reported Southwestern Baptist Theological Seminary's trustees reassigned Paige Patterson to president emeritus after a 13-hour executive session to determine his fate at the school. Jeffrey Bingham, dean of the seminary's school of theology, was elected to replace Patterson as acting president. The executive session was seemingly prompted by Patterson's resurfaced comments regarding domestic abuse and a teenage girl's figure.
According to Baptist Press:
[T]rustees adopted a motion stating "evidence exists" that Patterson has complied with reporting laws on assault and abuse. Trustees also found "no evidence of misconduct" in the employment file of Nathan Montgomery, a Southwestern student who was fired from his employment in campus dining services after he tweeted an article critical of Patterson.
While trustees were still in session, the Washington Post's Sarah Pulliam Bailey reported a woman who was raped alleges Patterson encouraged her not to tell law enforcement and to forgive her attacker.
For fear of adding speculation to the messiness to this unfolding story over the past few weeks, I've been hesitant to comment. But this morning when I reached out to Mark Tooley, President of the Institute on Religion and Democracy, he gave sound advice: "Share your honest thoughts."
So that is what I will do here. I will share my honest thoughts not about Patterson specifically, but about the broader discussion of the value of women within the Southern Baptist Convention and men who offer a healthy example.
Behind closed doors, I've had countless discussions with young Southern Baptist women I know who are tired of the "boy's club" mentality they encounter within the convention. No, we do not wish to be pastors. Nor are we radical feminists. The women I'm talking about, including myself, are mainly complementarians. We are advocates, authors, and fellow Southern Baptist congregants who simply wish for our thoughts and conclusions to be considered and appreciated by Southern Baptist men in the same way they do their male colleagues. And we want to be acknowledged when riding an elevator, as Beth Moore so aptly shared, or while sitting at a lunch or dinner meeting.
By the way, if my husband Eric ever ignored a woman while riding an elevator or sitting next to her at a lunch meeting, I wouldn't think he is acting out of respect for me. I'd call him out for being plain rude.
A reporter recently asked me if I feel appreciated and respected by my male colleagues at the IRD. Absolutely! In fact, I believe it is because I work alongside faithful Methodist, Anglican, and Presbyterian men that my senses are heightened to the lacking treatment from some Southern Baptists in leadership positions. My IRD male colleagues value my input, trust my judgments, and they give me grace and direction when I get things wrong. They acknowledge me with respect, and I hope the feeling is mutual.
All this is not a judgment against all Southern Baptist men. There are many respectful, professional Southern Baptist men I've working alongside who welcome my perspectives and leadership. My sweet Southern Baptist husband has a servant leader's heart. My local Southern Baptist church's pastor, Sunday school teachers, and deacons constantly recognize the value the wives, unmarried women, mothers, and daughters of the congregation add to the universal body of Christ. If they didn't, honestly I would not affiliate with the Southern Baptist Convention.
Still, the boy's club mentality among some Southern Baptists—young and old—in leadership positions needs to be addressed and quashed.
Many of us Southern Baptist women have shared our feelings among ourselves, but we are starting to speak our frustrations out loud. I pray Southern Baptist men listen.
Originally posted at IRD's blog.
Chelsen Vicari serves as the Evangelical Program Director for the Institute on Religion and Democracy. She earned her Masters of Arts in Government from Regent University and frequently contributes to conservative outlets. Follow her on twitter @ChelsenVicari.