Spires and Crosses: The Medieval Imitation Where Danes Worship in London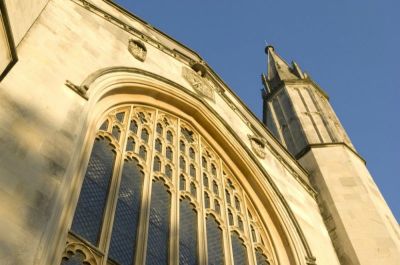 The following is part two in a series in the weekly Spires and Crosses column on historic or otherwise interesting churches in London that few, if any, tourists know exist.
When one thinks of old churches London one probably thinks of Westminster Abbey or St. Paul's Cathedral.
But the British capital is full of historic churches — some old and some not so old.
One of those churches is the Danish Church, across from the 410-acre Regent's Park. At first glance, the Danish Church, part of the Danske Sømands- og Udlandskirker (Danish Seamen's Church and Church Abroad), looks old. However, the medieval-looking architecture is actually 19th century.
Designed by Ambrose Poynter and built between 1826 and 1828 to house the Royal Hospital and Collegiate Church of St. Katharine by the Tower, which was formed in the 12th century as a social services charity for the poor, an astute observer will recognize it as an imitation of the Perpendicular-style chapel at King's College, University of Cambridge. Today, the poor are long gone and the neighborhood is one of the richest in London — the adjoining 5-bedroom house, also designed by Poynter, was listed for sale with a price of £12.75 million.
While the Danes have worshipped in London since 1692 the old church of St. Katharine has only been in the possession of the Danish Lutherans since it was opened by
King Frederick IX and Queen Ingrid on May 11, 1952.
Sadly, the magnificent west front, again a copy of the famous King's College Chapel, is completely covered in scaffolding, as maintenance of the exterior is ongoing.
The interior with its whitewashed walls may be simple, but it gives a visitor an accurate depiction of the appearance of a medieval Gothic church after the English Reformation when many fine interiors were lost as anything catholicky was covered up, removed, or otherwise destroyed.
Exclusive Op-eds from the Presidential Campaigns
If you go
The Danish Church is open most days with worship every Sunday (except August) at 11 a.m. As with the Swedish Church, it is a cultural hub for Danish expats.
Spires and Crosses is published every Sunday.
Dennis Lennox writes about travel, politics and religious affairs. He has been published in the Financial Times, Independent, The Detroit News, Toronto Sun and other publications. Follow
@dennislennox
on Twitter.