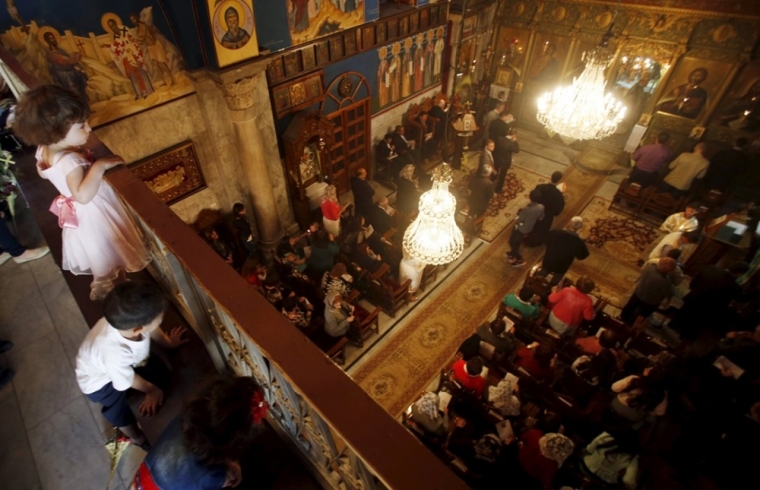 There is a scandal in Gaza-but it's not the one you're thinking about. Yes, Hamas is the political power in Gaza. Yes, the Palestinian Authority now manages the northern border of Gaza with Israel. And, yes, Hamas and the Palestinian Authority are struggling over what they call "a reconciliation." As well, the United Nations released a recent report stating that Gaza would be uninhabitable by the year 2020.
All of the above is well known to the world, to diplomats and to those who follow the geo-political machinations of mankind throughout the world. But this is not the scandal I am referring to. Rather, here is a scandal one would never think about related to Gaza: the Western Church, in America and Europe, has forgotten their sisters and brothers in Jesus Christ that live in Gaza. Totally. The three churches in Gaza-Orthodox, Latin Catholic and Baptist-are all suffering under difficult circumstances and their struggle goes unnoticed by the Church in the West. The Orthodox Church started in 425 A.D.; the Baptist Church, 1952 and the Holy Family parish, 1963. An amazing history of faith in Jesus in Gaza starting with the ministry of Philip the Evangelist in Acts chapter 6-an early church, first century evangelist baptized the first African convert to the Christian faith. Where? Gaza. Amazing.
Here is the scandal and it is ironic. The entrance to Gaza is only a one hour train ride from Ben Gurion airport in Tel Aviv Israel where millions of Christian tourists land every year. Why is it that only three American pastors and one British Christian leader visit Gaza on a regular basis? The Israel Ministry of Tourism (IMOT) keeps accurate statistics on Christians who come to Israel because this tourism is a major economic engine. According to recent data, 54 percent of 2.7 million visitors to Israel were Christian from three predominant denominations: If you do the math, of the 1.5 million tourists that came to Israel last year, 49 percent were Catholic; 20 percent Evangelical Protestants and 28 percent Orthodox. Ironic that the visitors match the exact same denominations the churches that are currently in Gaza. IMOT also states that the largest percentage of Christians visiting the Holy Land (a reference some use for Israel) - 20 percent- are from the United States. Because our brethren in the Christian faith are just a ten minute taxi ride from Ashkelon, shouldn't Gaza also claim the title "Holy Land".
Isn't it scandalous that millions of Christians come to Israel every year (IMOT states that from 2016 to 2017 there was a 25 percent growth in Christian tourism to Israel) and never consider visiting and encouraging the churches and believers in Gaza? Yet, sadly, this is not new news to those who live in Gaza or other countries in the Middle East. Over the past years, the world has witnessed the decline of Jesus followers in places like Gaza, Lebanon, Syria, Iraq, Iran and the list goes on. What will it take for the Western Church to wake up to the needs of the 1,000 Christian families left in Gaza out of 1.9 million people? Let's be honest: the Western Church has deeply ignored the plight of the Church in the Middle East-even after the incursion of ISIS/Daesh beginning in August 2014. The Western Church ignores the broken heart of the Eastern Church by not praying for them, not fasting for them, not giving to them and, most of all not going to them. Could we get one hundred of these Christian tourists to visit and spend just one day in Gaza?
I have been visiting and working in Gaza since 2010 once I learned of the situation there. Are there others who will join me? Whenever I invite a fellow pastor to come join me in Gaza when they are on an Israel tour, the question that is always asked me is: "Is it safe?" My response is: "The call fo Jesus in Matthew 28:19-20 never gives provision for safety, security or comfort: Jesus just says, "Go!"
Others say to me: "Well, that is your calling to go to Gaza and the Middle East!" My response: "Doesn't Galatians state that we are to do good to all, especially those of the household of faith?" To minister to our hurting brothers and sisters in Gaza is not a calling; it is a responsibility! And should not we, as the wealthy Western Church, be going to where the hurt is there greatest? And go to a place that is only one hour from where our plane lands?
This is the scandal in Gaza: the Church in Europe and America has forgotten categorically the Church in Gaza. Followers of our Lord Jesus are disappearing in Gaza. Fellow brother pastors-you are taking millions of your churches to within one hour of those who need you-if not now, then when; and if not you, then who?
Pastor Bill Devlin was born and raised in Schenectady, NY. He enlisted in the Navy in 1970. He was wounded by enemy fire off the coast of North Vietnam and is a recipient of the Purple Heart. He graduated with a nursing degree from Florida Atlantic University and a Master of Arts in Religion from Westminster Theological Seminary in Philadelphia. He is the Missions Pastor of Infinity Bible Church and travels the globe bringing the gospel of Jesus Christ to hard and dangerous places like Gaza, Iraq, Sudan, Syria and Cuba. The rest of his time is spent in Philadelphia with his wife of 35 years, Nancy. They have five children and five grandchildren. He is president of REDEEM and co-chair of Right to Worship NYC.