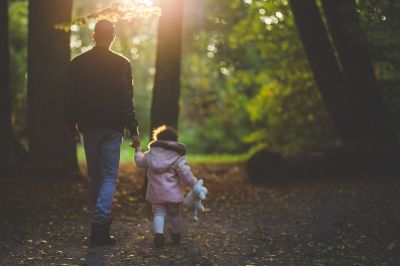 Fathers, in this article I would like to call you like a good coach, to come off of the bench and get in the game. The game I am talking about is the game of life. Your strategy will be to fight the good fight of faith, while entering the kickboxing ring of the most ruthless opponent of all time, the Devil.
You have to have a good offense because when it comes to fighting, once you are on the defense you are probably on your way down! You have to stay up and you have to stay up in God. Fathers, it's the game of life and the fighting arena is around your home and your family. Some fathers do seem to get it and do win, while others, unfortunately, do not!
The absolute most precious possessions you will ever hold is your children. To a precious few, this will hit you as a young man. Your life will change forever. If you were in that delivery room one of the great mysteries of life became a reality for you when your son or daughter was born. Instant love! It caused a grown man to start talking baby talk, changing diapers, getting up in the middle of the night. This baby and each one born to you as a couple are the princes and princesses of your house. Everything from your work schedule to what you eat, and everything you do were all altered so you could focus on your children's needs.
To others, sadly, it won't hit until later in life. They found themselves on some bar stool somewhere with their head firmly beneath both hands pulling at their hair and feeling like they are loosing their mind. Playing in the background of that smoky bar was someone's rendition of Harry Chapin's "Cats in the Cradle" song. Every word of the song felt like it described the last thirty years of their life.
As they listened they wished they could have done life differently. They wished that they had gotten the memo on the importance of their children as soon as they were born but suddenly it seemed too late. As a Pastor once preached in my hometown, "You will either wished one day you had or else you will be glad you did!" I want to assure you, my friend-that there is always hope. When Jesus is invited to come in He can turn things around for good in your life.
The greatest battle of the enemy in the kickboxing match of life will be for your mind. The most powerful emotion known to man is the drive for self-preservation. If you are hanging off a cliff in danger of dying, your adrenal glands will start pumping adrenaline into your blood stream and you will develop almost superhuman strength. The second strongest human emotion right behind that is sexual passion!
Be warned: Satan's plan is he wants to destroy your marriages, homes, finances and ultimately your children and drag you all with him into Hell through pornography!
I want to equip you today with five deceptions in Satan's battle for your mind, so: "Then you will know the truth and the truth will make you free!" John 8:32b (NIV)
Number one; the devil does not want you to know that the most spiritually captivating aspect of pornography is the communication of their eyes to yours. It is what they are saying from the way they are looking at you. Models during the filming or photography are told over and over again to "look sexy, look sexy". What that producer or photographer is really saying is: "Look into this camera and say 'I want to have sex with you'"!
What occurs when you look at pornography is a combining of the nudity with a spiritual connection through the eyes. This makes the porn literally irresistible. Doctors and nurses see nudity all day long with little or no effect. The reason they are unaffected is because the luring temptation of the eye-gate is not happening.
Deception number two is that the model's skin is not real and their body part proportions are not real. Hours and hours of make up are applied and the fact is the person you are seeing is not real, they are a lie"!
Deception number three is that these models do not really want to have sex with you! They do not know you and if they did they probably would say: "No way!" Believing that they want to have anything to do with you is a fantasy the enemy puts in your mind.
Deception number four is that God did not design them for you. Everything God designs for us are designed perfectly and are a perfect fit. God never intended for us to have multiple sex partners. One Adam for one Eve is Gods blueprint for marriage. Even though some marriages may go though seasons of difficulty ultimately God intends that their be solidarity in the family unit.
Deception number five is that you are having to be intimate with someone you are not married to while your Father is watching, your Heavenly Father! This same porn model God does have someone special for someday, and you are not him! Fornication and Adultery are stealing something or someone who does not belong to you!
If you know you have sinned doing this and perhaps continue to do so, repent in your heart before your Heavenly Father. Ask Him to forgive you of your sins and ask His son Jesus Christ to come into your heart and become your Lord and Savior. Ask Him to give you the power to become His son. The scriptures declare; John 1:12a (KJV) "To as many as received Him to them He gave the power to become the sons of God"!
He will and you can start your new life as a truly Born Again Dad today! Please write to us today for literature about your decision.
Rev Nolan J Harkness is the President and CEO of Nolan Harkness Evangelistic Ministries Inc. since 1985. He spent most of his adult life working in youth ministry. He also felt the calling of Evangelist/Revivalist and traveled as the door was open holding evangelistic meetings in churches throughout the Northeast. His website is www.verticalsound.org.