The One Book You Have to Read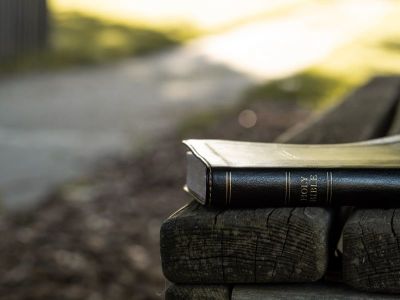 This was first given as the August 28, 2018 Convocation address at Lancaster Bible College.
Today we mark the beginning of our 85th year of standing authoritatively, boldly, and unashamedly on God's Word since our founding in 1933. I want to thank our trustees, corporation members, faculty members, administrators, staff members and students for participating in this time-honored ceremony.
Ceremonies are valuable occasions that mark new beginnings and endings, connect us with our past and reach into our future, unite us in our mission, and remind us that we are sovereignly connected to others as we move through life.
My ministry motto has always been able to be summed up in four words, "For thee, for them!" meaning "For God, for you!" Those four words have always given me real focus.
While Convocation 2018 marks the beginning of a new academic year, it also ushers in an ending. Today, I announce to you, the student body, my retirement from the Presidency of Lancaster Bible College | Capital Seminary and Graduate School, effective August 1, 2019. It has been a true joy for my wife, Paulette and me to serve this great Bible college for 21 years, 20 as President. I am grateful every day that the Lord has given me the tremendous opportunity to be a small part of the 85-year history of LBC.
When asked over the years what is my favorite and most rewarding part of the presidency, I have been quick to answer, "my interaction with the students!" Now when I think about what I will miss the most, my answer is again—students! Cheering you on and encouraging you on your journey has been one of my greatest joys. By nature of my responsibilities, I don't have the kind of close working relationship with you as your professors do, so I've always tried to be your cheerleader. I have been so fulfilled watching students grow, acquire self-confidence, become leaders and mature in your spiritual walk.
I have always seen in you and those who have come before you the future of the Church, and oh what a privilege it has been for me to be a part of your lives. I have worked hard over my tenure to create a community of joy, grace, and love, always trying to model the way forward to a better world. I will miss you!
I will also miss living and moving in the world of academia. As my colleagues processed this morning, I was reminded that this is my last Convocation as President, and the beginning of "lasts" through the upcoming year. Since this is my last year of delivering messages to you from this podium, I expect you to stay awake through my entire messages for a change!
So why do we hold Convocation, and what is it, anyway? At Convocation, we follow a tradition of centuries past, a ceremony rooted in the practice of the medieval universities, when faculty and students would gather formally for a service of worship and dedication at the beginning of a new academic year. The cathedral church, customarily associated with the university, would be filled as scholars came together for worship and to remind themselves of the task they now assumed.
At the first level, the medieval convocation was a worship service intended to praise and glorify God, for the one true and living God was acknowledged as the source of all wisdom and true knowledge. Secondly, the scholars gathered because they understood the gravity of their calling—the tasks of teaching and learning. These scholars understood that God would hold professors accountable for their teaching and students accountable for their learning.
In the convocation ceremony, the assembled scholars sought to glorify God and praise Him for the gift of learning; to thank Him for the opportunities of scholarship; to ask for discernment; and to dedicate themselves before God to their calling.
Lancaster Bible College | Capital Seminary & Graduate School gathers together for these very same reasons as we observe the opening of each academic year. Our fervent prayer and hope is that God will be glorified in all we do, in all we teach, in all we learn, in all we write and in all that we apply to the high calling of Christian ministry.
Together we offer our gifts and abilities to the One who has so graciously entrusted us with this opportunity. Together we embark on our founding mission: "...to educate Christian students to think and live a biblical worldview and to proclaim Christ by serving Him in the Church and society" [wherever God calls]. Together we consecrate ourselves anew to teaching and learning the Bible, for that is the task, the core curriculum, and the bedrock of our existence.
As we cross the threshold of a new academic year, I remind you that Bible is our middle name, and it is what sets us and other Bible colleges apart from secular and Christian liberal arts colleges. From the dorm room, to the classroom, to the athletic field, to the performance stage, to the board room—the Bible instructs, inspires and establishes all that we think, do and say.
Theodore Roosevelt, the 26th president of the United States, wrote in the Ladies Home Journal in October 1917, "If a man is not familiar with the Bible, he has suffered the loss which he had better make all possible haste to correct.... A thorough knowledge of the Bible is worth more than a college education." At Lancaster Bible College we believe the two are not exclusive. We believe a good college education is inseparable from a thorough knowledge of the Bible. I say it often, and each time it is as true as the first—now more than ever, the knowledge and influence of the Bible is needed in our society and world. LBC can lead the way in being a voice that stands on the authority of Scripture while engaging the culture in a winsome way.
Not so, say the editors of GQ (formerly Gentleman's Quarterly Magazine) in an April 19, 2018 article titled "21 Books You Don't Have to Read." Number 12 on their list is the Bible, citing that "It is repetitive, self-contradictory, sententious [meaning "self-righteous, overly moralizing, judgmental"], foolish, and even at times ill-intentioned." Sadly, their assertion reflects our culture today—boundary-free, morally confused and relativistic. Dr. Stephen Nichols, LBC Distinguished Professor, writes, "A culture that thinks it knows better than the Bible surrounds us. Many loud voices have chimed in to call for giving up altogether on this ancient book that [they feel] is so out of step with life in the twenty-first century."
Eric Metaxis, bestselling author, speaker, and co-host of "Break Point Radio," issued his response to GQ in an article titled "One Book You Have to Read: Why GQ is Wrong on the Bible."
"For example," Metaxis writes, "why do we have a seven-day week? Why is this the year 2018? Why do we use printed books? Why is the average Westerner literate at all? The answer to all of these is 'the Bible.'
Without reading the Bible, you could never comprehend works of art like the Sistine Chapel, the Pieta, or the Last Supper. You will never fully grasp Dante, Milton, or Bach. Indeed, many great masterpieces wouldn't exist if religious patrons hadn't paid artists and composers to celebrate the message of the Bible.
If you don't have a working knowledge of the good book, most of Shakespeare's allusions will be opaque to you. You'll not understand why the first European colonists came to New England, you'll miss what motivated the abolition of slavery, and you will find Martin Luther King, Jr.'s 'Letter from Birmingham Jail' unintelligible.
That is a drop in the bucket of the Bible's influence. This behemoth of a book, and the Judeo-Christian tradition it represents, are the reason why we value women equally with men, why we don't think it's okay to leave newborns to die outside, why we think mercy is admirable, and even why we believe history had a beginning and will someday come to an end. Simply put, if you don't understand the Bible, you won't understand who you are and why you think the way you do."
Deciding the Bible is irrelevant and has no place in society explains a lot of today's cultural confusion. But attacks on God's Word is nothing new. The attacks by GQ, Darwinism, higher criticism, the sciences and social sciences have their roots as far back as the Garden of Eden when the serpent asked, "Did God really say?"
The Apostle Paul knew something of attacks against God's Word. Also writing in a very pagan society, he strengthened and emboldened his young churches by reminding them of what they were reading when they read God's Word. Consider 2 Timothy 3:16-17:
"All scripture is God-breathed and is useful for teaching, rebuking, correcting and training in righteousness, so that the man of God may be thoroughly equipped for every good work."
Before explaining how and why scripture is useful – and the one book you have to read – Paul first establishes that when we read the Bible, we are indeed reading the Word of God: "All scripture is God-breathed..."  The Bible is not the writings of philosophers, pundits or poets, but the words of the living, holy God on high. Peter explains it like this: "For prophecy never had its origin in the will of man, but men spoke from God as they were carried along by the Holy Spirit" (II Peter 1:21). Human prophets did not originate the message, they conveyed it using their own personalities in the process. Almighty God gave us His guidebook for life and salvation. And because it is the Word of Almighty God, it is powerful enough to change, shape, and form lives.
Our text gives us four reasons it is the greatest book in the world: Clarification; Conviction; Correction; Completion. And why it is the one book you have to read!
Reason #1 – CLARIFICATION: "for doctrine", to teach us what is true.
The Word of God is eternal just as God is eternal. Jesus said in Matthew 24:35, "Heaven and earth will pass away, but My words will never pass away."
They are more stable and lasting than Creation itself. God gave us His Word so we would know how we ought to live in light of the Scripture. Of all the methods of communication, He chose to write His revelation in 66 books over approximately 1,500 years by at least 40 different authors, yet it has a unity of doctrine and truth, from Genesis 1:1 to Revelation 22:21. Indeed the Bible is a miracle book and in order to understand the doctrine (teaching or precepts) it takes more than simply reading, it takes study and meditation. This week you have embarked upon a journey to study the Word of God in perhaps the most in-depth way than you have ever studied it before. Take time to really study the Bible. It is easy to let slip our daily study in the Bible even while attending a Bible college. It is God's Word that will last not only in this world but also in that which is to come.
Reason # 2 – CONVICTION: "for reproof", to teach us what is wrong.
Reproof is conviction by proving or testing something. The Bible encourages us to prove its truths by applying its truths. "For the Word of God is living and active. Sharper than any double-edged sword, it penetrates even to dividing soul and spirit, joints and marrow; it judges the thoughts and attitudes of the heart." (Hebrews 4:12) It is a standard given by God to which we are to comply. The Psalm writer said, "I have hidden your Word in my heart that I might not sin against you." (Psalm 119:11) Let God's Spirit show you through His Word how He wants you to live. We are not given the option of ignorance or the luxury of picking and choosing what we want to believe. God will hold us accountable to all His Word. The Bible is our standard. It can show you the answer to every question you face in life today. It is the living Word, so it never grows old or out of date. It is never rendered irrelevant. It is eternal.
Reason # 3 – CORRECTION: "for correction", to teach us what is right.
My human nature does not like correction. Sometimes it is painful. It hurts my pride. My heart is deceitful, my flesh is weak, and my attitudes are rebellious. Yet, such correction is essential. "How can a young man keep his way pure or purify his path? By living according to your Word" (Psalm 119:9). How willing are we to submit to God's correction? It may be hard, but it is worth it. "Do not merely listen to the Word, and so deceive yourselves. Do what it says" (James 1:22). Increasingly, people approach the Scripture with a smorgasbord mentality – picking and choosing what they feel comfortable with. It is a mark of a pluralistic, post-modern society. God's Word will teach us what is right.
Reason # 4 – COMPLETION: "that the man of God may be perfect, thoroughly furnished unto all good works."
The word perfect means to be complete or mature – it is a lifetime process. Maturity requires knowledge of God's Word, a discernment of how it works in your life and application by actually doing what the Bible says. God has provided all we need. It is our responsibility to obey what He says in order to bring glory to Him. You see, God wants you to apply His Word so you can show the world it works. "And be not conformed to this world: but be ye transformed by the renewing of your mind, that ye may prove what is that good, and acceptable, and perfect, will of God" (Romans 12:2). The Bible is our standard, safeguard, and source for spiritual strength.
"Oh, the depth of the riches of the wisdom and knowledge of God! How unsearchable His judgments, and His paths beyond tracing out!" (Romans 11:33)
"Thy words were found, and I did eat them; and Thy Word was unto me the joy and rejoicing of mine heart . . ." (Jeremiah 15:16). The word "eat" means devour as in Ezekiel 2:8. This indicates both the hunger and the satisfaction with which Jeremiah assimilated God's Word. In the midst of his sufferings, sorrows and the rejection of his message, he came upon the promises of God, and seized upon them with such intensity because his need of comfort was so great. He read them thoughtfully, meditated upon them day and night, and, no doubt, memorized large portions of them. "It is blessed to eat into the very soul of the Bible," said C. H. Spurgeon, "until, at last, you come to talk in Scriptural language, and your spirit is flavored with the words of the Lord, so that your blood is Bibline and the very essence of the Bible flows from you."
LBC gives you the opportunity to study the Word of God in depth. We believe strongly that as you get into the Word of God, it will get into you and transform you like nothing else can. We have heard many stories of how the Bible has changed lives. It is the power of God unto salvation. That is why it is the one book you have to read!
I love the story included in the classic devotional, "On This Day," entitled "The Prodigal." It is a beautiful account of the power of God unto salvation. It goes like this:
"One of the most powerful personal evangelists of the nineteenth century was "Uncle" John Vassar, who grew up in his family's brewery in Poughkeepsie, New York. Following his conversion to Christ, he abandoned beer-making for soul-winning, and on May 15, 1850 he was commissioned as an agent for the American Tract Society of New York. Vassar took off across the country, never resting in his mission of selling Christian literature and asking everyone he met about their relationship with Christ.
On one occasion, traveling in the West, he visited the home of a praying wife whose husband was an infidel. She begged for a Bible, and Vassar gave her one and went his way. He had no sooner left when the husband, coming home, saw the book and was enraged. Seizing the Bible with one hand and the ax with the other, he hurried to the woodpile where he placed it on the chopping block and hacked it crosswise in two. Returning to the house, he threw half of the destroyed Bible at his wife, saying, 'As you claim a part of all the property around here, there is your share of this.'
The other half he tossed into his tool shed.
Months later on a wet winter's day, the man, wanting to get away from his Christian wife, retreated to his shed. The time passed slowly, and in boredom he looked around for something to read. Thumbing through the mutilated Bible, his attention was caught by the story of the prodigal son in Luke 15. He became absorbed in the parable only to discover that its ending belonged to his wife's section. He crept into the house and secretly searched for the bottom half of the book, but was unable to find where his wife had hidden it.
Finally he broke down, asked her for it, and read the story again and again. In the process he came to the heavenly Father like a penitent prodigal returning home."
"The Law of the Lord is perfect," says Psalm 19:7. "It gives us new life"—and sometimes in unexpected ways.
As we begin our 85th anniversary year, our challenge at LBC continues to be to seek fresh ways of elevating the prominence and credibility of God's Word both for the same reason – changed lives. We do this in the context of motivating and mobilizing young people who can become people who are focused handlers of God's Word and its profound implications to change lives. We press on toward the day when the world sees in the lives of you and me, and the difference the Word of God makes, and consequently will have to pay attention to the cause of Christ and take it seriously. It is a new year! I challenge each one of us to excel in the area of spiritual power this year . . . in prayer, teaching, and living the truth of the Scripture, witnessing to the those still seeking, and encouraging and building up the Body of Christ. I want this to be the best year ever in spiritual advances for the cause of Christ. In our personal relationship, and in our role as a member of the LBC community, let us serve the Lord with gladness and pray our way through our 85th year.
Thank God for the Holy Scriptures, His authoritative, infallible Word. In His revealed precepts, promises, directions, and light may we learn more of Christ, retain His truth and obey Him by His enabling grace.
This semester and every day, may we explore all its truths, love them with all our heart, embrace them with all our power, engraft them into our lives...so that all glory will be to God as we study His Word! The one book you have to read because it brings clarification, conviction, correction, and completion.
1 The Editors of GQ. gq.com/story/21-books-you-dont-have-to-read. April 19, 2018.
2 Nichols, Stephen J. A Time for Confidence: Trusting God in a Post-Christian Society. Reformation Trust Publishing. 2016.
3 Metaxas, Eric & G. Shane Morris. One Book You Have to Read. breakpoint.org/2018/05/breakpoint-one-book-you-have-to-read. May 4, 2018.
4 Taken from "A Minister's Bible." The Valley of Vision. Banner of Truth. 2003 
Dr. Peter W. Teague, a native of Iowa, assumed his duties as President of Lancaster Bible College on July 1, 1999. He has been involved in leadership positions with the Association of Biblical Higher Education, Association of Christian Schools International and Mid-Atlantic Christian Schools Association. He currently serves as board member for the Center for Urban Theological Studies, chairperson for the board of directors of the American International Cultural Exchange Institute, and member of the Pennsylvania Tuition Account Program Advisory Board.