The separation of 'LGBTQ church' and state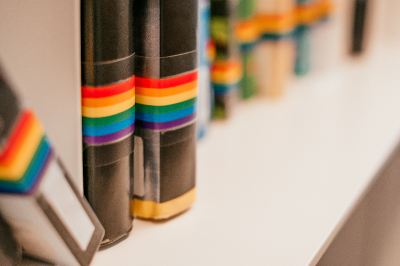 In 1802, President Thomas Jefferson wrote a letter affirming freedom of religion in America and highlighting the separation of church and state. Less than a century later, President Ulysses S. Grant stated: "Leave the matter of religion to the family altar, the Church, and the private school, supported entirely by private contributions. Keep the Church and state forever separate." 
I wonder what these two former American presidents would say about the presence of "LGBTQ church" in America's public schools today. I am using this phrase to describe the religious fervor and tenacity with which certain teachers, school administrators and politicians seek to instill their sexuality doctrines in the minds of impressionable children in classrooms all across America. That begs the question: Why are tax dollars being used to promote LGBTQ church?  And why are activists allowed to advance a radical agenda in America's public schools today?
Author and commentator Andrew Sullivan wrote, "Like any religion, wokeness understands the need to convert children. The old Jesuit motto (sometimes attributed to Voltaire) was, after all, "give me the child for the first seven years and I will give you the man." 
Two modern-day U.S. presidents, Barack Obama and Joe Biden, have aggressively promoted the mission of LGBTQ church. In a CP op-ed last year titled, "How a President's Reckless Assault on Marriage Backfired," I wrote: "Barack Obama was the self-appointed prophet who launched the marriage and gender revolution in America, which included his 2016 edict ordering public schools to allow transgender students access to their bathroom of choice."
And Joe Biden made this audacious statement when addressing some teachers last year: "They're all our children … They're not somebody else's children. They're like yours when they're in the classroom." President Biden must have been thrilled last week when Minnesota lawmakers advanced transgender legislation directly attacking parental rights. "Conservative groups and family law attorneys warn that the legislation is written in such a way as to open the door for Minnesota parents to lose custody of their children if they refuse to provide them with transgender care."
Why are leftist politicians obsessed with having state employees teach children about same-sex attraction and transgenderism? It is highly disturbing and creepy. These deceived politicians should support and strengthen families rather than trying to supersede the rights and responsibilities of parents. 
Emilie Kao serves as senior counsel for Alliance Defending Freedom. Two years ago she wrote, "At younger ages than ever before, American children are being targeted by the left with sexual content and destructive gender ideology … the White House and Congress are poised to exacerbate these trends by infusing K-12 public schools with destructive ideology, politicizing medicine, and undermining parental rights." 
Concerned parents, along with many state legislatures across the country, are working diligently to prevent LGBTQ church from taking over America's public school classrooms and sporting events. Wyoming recently became the 19th state to ban boys from competing in girls' sports. And last year Florida Governor Ron DeSantis signed into law a bill prohibiting the mention of sexual orientation or gender identity from classroom curriculum. Earlier this year, Iowa Governor Kim Reynolds signed the "Students First Act" into law, making state education funding available for K-12 students who choose to attend private schools. Parents are fed up with sexuality doctrines being shoved down the throats of their children. 
Without the necessary separation between LGBTQ church and state, American children suffer tremendous mental anguish.  Political philosopher Ryan Anderson noted five years ago that "transitioning treatment has not been shown to reduce the extraordinary high rate of suicide attempts among young people who identify as transgender (41%, compared with 4.6% of the general population). Never mind that people who have had transition surgery are 19 times more likely to die by suicide." 
In my op-ed five years ago titled, "Will America's Public Grade Schools Become Transgender Mills?", I wrote, "The Wall Street Journal cited the largest study of its kind concerning those who have had sex-reassignment surgery, and found they are almost 20 times more likely to commit suicide than the rest of the population (This 30-year study in Sweden involved 324 people.)"
Preaching LGBTQ doctrines to children in the classroom creates anxiety and confusion over issues of gender and sexuality. It is the right and responsibility of parents to teach their children about these delicate matters. When state workers are allowed to impress dangerous doctrines upon young minds, they abuse the privilege they have been granted by parents who send their children to school to be taught reading, writing and arithmetic. New research last year revealed that "most Americans don't believe young kids should have access to or be assigned readings or topics with LGBTQ themes." But that doesn't seem to stop LGBTQ church zealots from pushing their agenda forward. 
LGBTQ church seeks to usurp the high calling God has given to parents. These crusaders forge ahead with their unrighteous efforts to proselytize your children.  Activists should never be allowed to preach their dangerous ideology in public schools, but they are free to start private schools for that purpose. America enjoys the freedom of religion, and the formation of LGBTQ parochial schools would not violate the Constitution. 
The separation of LGBTQ church and state is desperately needed to provide a critical firewall to help protect the physical, mental and spiritual health of children who attend America's public schools. As George Barna wisely noted: "In the race to a child's heart, the first one there wins." 
Dan Delzell is the pastor of Redeemer Lutheran Church in Papillion, Nebraska.