Biden says state laws banning gender transition surgeries for minors are 'close to sinful': 'It's cruel'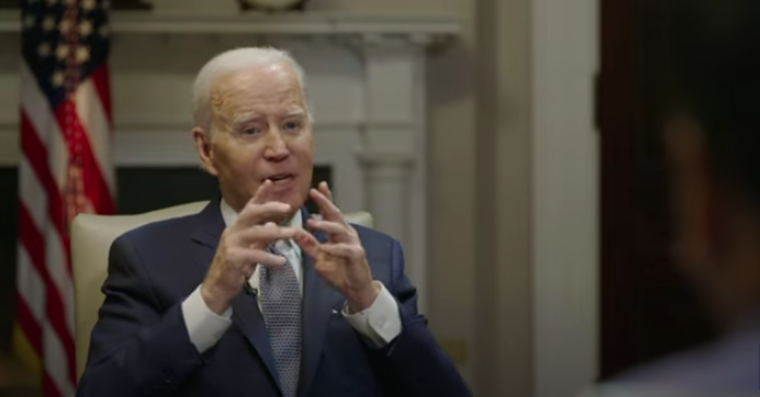 President Joe Biden appeared to describe laws restricting trans-identified youth from undergoing genital-mutilating surgeries and competing on sports teams that align with their gender identity as "close to sinful" in response to Florida and other states enacting such measures. 
In an interview with actor Kal Penn for "The Daily Show," which aired Monday, Biden denounced "what's going on in Florida" as "close to sinful" and "terrible."
"I mean, it's just terrible what they are doing. It's not like a kid wakes up one morning and says, 'I decided I want to become a man,'" Biden said. "I mean, what are they [Florida] thinking about here? They are human beings. They love. They have feelings. They have inclinations. Just to me, I don't know, it's cruel." 
He did not specify what state law(s) he was taking issue with, but his remark came in response to a question from Penn about "what the federal government might be able to do to protect LGBTQ Americans, especially trans kids who are dealing with all these regressive state laws."
Florida has passed several measures condemned by LGBT activists and liberal political leaders like Biden, including a law requiring trans-identified athletes to compete on sports teams that correspond with their biological sex instead of their stated gender identity. Florida is one of 18 states that have passed such a law. The others are Alabama, Arizona, Arkansas, Idaho, Indiana, Iowa, Kentucky, Louisiana, Mississippi, Montana, Oklahoma, South Carolina, South Dakota, Tennessee, Texas, Utah and West Virginia.
Additionally, the Florida Boards of Medicine and Osteopathic Medicine have approved a ban on gender transition surgeries for minors, making it one of eight states to restrict the procedures. The others are Alabama, Arizona, Arkansas, Mississippi, South Dakota, Tennessee and Utah.
Florida also gained national attention last year for enacting a law derided by critics as the "Don't Say Gay Bill," which prohibits school officials from discussing matters related to sexual orientation and gender identity with children in kindergarten through third grade. 
Biden painted the laws as attacks on the trans-identified community.
Supporters of laws prohibiting trans-identified athletes from competing on teams point to the biological differences between men and women as the reason why such measures are necessary. USA Powerlifting has identified "increased body and muscle mass, bone density, bone structure, and connective tissue" as factors that give biological males, on average, an advantage over females in certain athletic competitions.
A study published in the British Journal of Sports Medicine found that biological males typically retain an advantage over biologically female athletes even after two years of taking feminizing hormones. 
While Biden and other supporters of allowing trans-identified minors to undergo gender transition procedures view them as necessary to "affirm" the identities of youth with gender dysphoria, those backing the bans on what supporters refer to as "gender-affirming care" for minors point to concerns about the long-term impacts of the life-altering procedures.
Practices covered by most state bans include the provision of puberty-blocking drugs, cross-sex hormones and gender-reassignment surgeries. 
According to the American College of Pediatricians, puberty-blocking drugs like Lupron can cause "permanent side effects including osteoporosis, mood disorders, seizures, [and] cognitive impairment," as well as sterility. Cross-sex hormones, meanwhile, can give users an "increased risk of heart attacks, stroke, diabetes, blood clots and cancers across their lifespan."
As for gender-reassignment surgeries, which involves the removal of sexual organs that correspond to an individual's biological sex and/or the creation of synthetic organs that align with their gender identity, a growing number of detransitioners have come forward to express regret that they underwent the life-altering procedures as minors.
One prominent detransitioner, Chloe Cole, has announced her intention to sue the doctors who treated her gender dysphoria, insisting that they misled her into thinking surgery was the only way to cure her discomfort.
Cole experienced suicidal thoughts and worsening mental health after undergoing a double mastectomy at age 15, finding that contrary to the assertions of LGBT activists and many medical professionals, her "distress always came back worse" following the "initial relief" that occurred after "each phase of transition."  
Reiterating his characterization of such legislation as "cruel" while speaking to Penn, Biden expressed a desire to "pass legislation like we passed on same-sex marriage" informing states that "you mess with that, you're breaking the law." 
Biden has emerged as an outspoken supporter of the Equality Act, federal legislation that would codify nondiscrimination protections for the LGBT community into law. While the Equality Act passed the Democrat-controlled U.S. House of Representatives in the 117th Congress, it stalled in the evenly divided U.S. Senate. The Equality Act stands little chance of becoming law in the 118th Congress, as Republicans now control the House.
A poll conducted last month by Summit Ministries in conjunction with McLaughlin & Associates, sampling 1,000 U.S. adults, found that 71% of respondents with an opinion on the topic believe that "pharmaceutical companies and doctors who promote puberty blockers and cross-sex hormone treatments for underage children seeking gender transition should be legally liable for any harmful side effects that arise."