Thinking about the first Passover: Learning from the past to embrace the present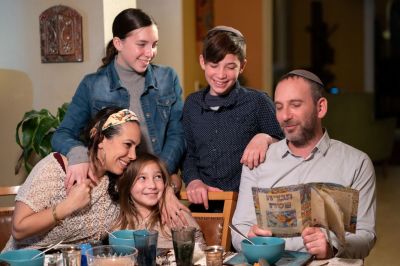 "The road was very hard. The weather was very bad. We heard the artillery firing. We got cold and sick. Daniel just said a few words during the 15 hours of horror."
This is the story of Svitlana, a Jewish grandmother from Ukraine who The Fellowship helped escape the war-torn country, along with her young grandson, Daniel, a small child already suffering from medical issues. The two, along with Daniel's parents, evacuated their Ukrainian hometown, as Russians overtook the city. As bombs began to fall and troops began to advance, the family was forced to leave their home, immediately.
A family on the run. A family forced from their home without warning; without being able to pack; without being able to prepare food for young Daniel. A Jewish family forced to flee for their lives.
The story of Svitlana and Daniel's family is one I'll tell my own family this Passover. Whenever holidays come around, I teach my children the traditions and stories from the Bible on which these celebrations are based. But I also try to show them how each of these biblical observances is relevant today. Passover is no different — especially since the seder dinner and the Exodus story it tells are meant especially for the children at the table.
As my family thinks back to that first Passover from the Bible, we can only imagine the emotions that washed over the Israelites. Enslaved for centuries, Moses was now leading them away from Pharoah, away from Egypt, away from bondage. And he promised that not only were they free, but that our powerful and loving God would protect them.
But we can also see how God rescues and protects His children, even today. Just as He once sent Moses to lead the Israelites to freedom, God is using The Fellowship's faithful supporters to rescue His children. As the war in Ukraine rages on, we've helped thousands of Jews escape the hardships of life in a war-torn country. I have been blessed to greet so many of them — families, orphans, elderly Holocaust survivors — upon their arrival in the Holy Land, where they were finally safe and could receive the care they so desperately needed.
Since the war began, The Fellowship has helped more than 5,000 Ukrainians make aliyah, guiding these children of God to a new and better life in Israel, much like Moses did for the children of Israel so long ago. And now, there are thousands of Jewish people who can celebrate Passover — Jews like Svitlana and her precious grandson, Daniel — by observing the seder dinner in the land God promised them in the Bible.
As I celebrate Passover this year with my children, I'll teach them about the Exodus story of the Bible, but I'll also tell them the stories of Jewish people today — Jewish families like Svitlana's—who teach us that God's people can always turn to Him for rescue.
Yael Eckstein is the president and CEO of the International Fellowship of Christians and Jews (The Fellowship). In this role, Eckstein oversees all ministry programs and serves as the organization's international spokesperson. She can be heard on The Fellowship's daily radio program airing on 1,300 stations worldwide, and on her podcasts, Nourish Your Biblical Roots and Conversations with Yael. Before her present duties, Yael served as global executive vice president, senior vice president, and director of program development and ministry outreach. Based in Jerusalem, Yael is a published writer, leading international advocate for persecuted religious minorities, and a respected social services professional. As president and CEO of The Fellowship, she also holds the rare distinction of being a woman leading one of America's largest religious nonprofit organizations