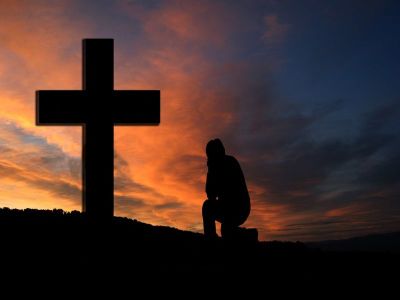 The nearest and dearest thing to my heart is to see people become "born again." However one of the saddest things for me to see is quick prayers prayed over people, who have heard a quick salvation message, and then to see them politely told "Today's church service is over."
Perhaps it's in time to hit our favorite Sunday Buffet spot before the crowd gets too thick? Perhaps it's because we truly believe we are really able to "lead them to the Lord" inside that three minutes, and then "He will take it from there?" Or perhaps we have seen others do it that way so much for so long that we just assume it is the way that it should be done? Shallow doctrine produces shallow converts, however throughout history the Christians that changed the world were those who were truly "converted" to Christ. Being "born again" to them required a self-death in order to be reborn and their baptismal service was more than just getting "dunked" by their pastor in a pool of water!
Recently, The Christian Post celebrated by looking back on one hundred years of Christianity. The not so well known but highly effective evangelist they referred to was named Charles Finney. Charles Finney was a lawyer from Sackets Harbor New York who had his practice in nearby Adams. He had always mocked a group of ladies in Adams who regularly gathered for prayer. However after a considerable amount of time had passed one day Charles was following his daily routine and the powerful conviction of the Holy Spirit came over him. It was so strong he followed a familiar trail out into the woods and by a fallen tree wept for hours under the conviction of his sin. The intense prayer continued for weeks to come and became part of his daily schedule. One night, according to his words, the Holy Spirit fell upon him and he was baptized in the Holy Spirit. Shortly thereafter he was called into full time ministry and this converted lawyer became a circuit-riding preacher. As he rode horseback from town to town in the Northeastern United States in the 1800's he led hundreds of thousands of people to Christ.
Many of the writings and sermons Charles Finney preached, under the anointing of the Holy Spirit, have been preserved for our edification. Of the over half a million souls, by some estimates that he led to Christ, many already attended church regularly. Some reports say the numbers were closer to eight hundred thousand people saved under his strong preaching. A very large percentage of them believed they were ready for heaven. Many were outstanding members of their churches. However, after hearing the biblical arguments of the lawyer sent from heaven, people realized just how unconverted they really were in the past. It was said that Finney was the lawyer in the courtroom, the congregation were the jury and that God sat as the judge, as Finney used God's Word as the measuring stick of His righteousness.
I often think of a precious friend in the faith, my pastor back then, and a father of four precious children. He went to be with the Lord in October of 2001. It was said later that he had a birth defect in his heart that no one knew about. He collapsed following leading worship in our church that Wednesday night, and died at 38 years young on the way to the hospital. I will leave him nameless but over 1300 people attended his funeral. He was known as a "pastor's pastor" and in his short 38 years, touched hundreds of people for Christ in a way that only Jesus could do in and through any man. He exuded joy, was always full of love and smiling, and his preaching and worship was like no one I had ever known. This dear pastor attended the Pensacola Florida revivals with a group from our church in the late 90's. When he returned, he told everyone, and preached from the pulpit, that he felt he was a changed man. He went on to say, by everyone's amazement, that he felt under the preaching and anointing of Evangelist Steve Hill that he was truly "born again" for the first time in his life. God had truly met him there and yet how is this possible that a Spirit filled pastor could testify that he felt "born gain?"
To answer I recently coined a descriptive phrase called "pew fillers"! Pew fillers are pastors who knowingly and with great care and preparation endeavor to fill every pew in their church by preaching or teaching a out of balance version of the Bible. This is no great new revelation, and I am one of many, for years, who have addressed this issue. These under zealots are trying to boost either their attendance record, or the report of converts that goes into their national office each year. Perhaps they're trying to fill offering plates by soft-pedaling the gospel. In most cases the people who say yes to their sermons and pray a microwave prayer of salvation are not truly born again! They may think they are. They may even feel they are. Salvations that do not lead people to a state of contrition over their sins, seeking the Biblical Jesus to forgive them and to deliver them from the lifestyle they recognize they must leave behind are not truly "born again!" So whether an individual may have listened to the preaching of Charles Finney in the 1800's, Steve Hill in Pensacola Florida in the 1990's, or a pastor who has started preaching the whole counsel of God, when conviction hits them then they will become for, perhaps the first time, "truly born again!"
Paul said in Romans 7:9 (KJV) " For I was alive without the law once: but when the commandment came sin revived and I died." Do you know you are truly born again?
Have YOU died first?
Rev Nolan J Harkness is the President and CEO of Nolan Harkness Evangelistic Ministries Inc. since 1985. He spent most of his adult life working in youth ministry. He also felt the calling of Evangelist/Revivalist and traveled as the door was open holding evangelistic meetings in churches throughout the Northeast. His website is www.verticalsound.org.